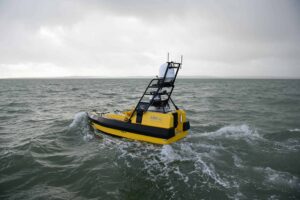 ASV's C-Worker 6 USV has successfully completed a seabed transponder calibration in 1300m deep waters. The trials, which took place in the Gulf of Mexico, were conducted in rough conditions with 2.5m waves.
C-Worker is the world's first unmanned oil and gas workboat. ASV Ltd designed and built the 6m vehicle at their waterside facility in Portchester, UK.
ASV Technical Sales Manager Brian Anderson said: "This unique unmanned capability could save the oil and gas industry millions of dollars. The proven ability to conduct precise subsea positioning in challenging conditions, broadens the possible applications for C-Worker".
ASV has completed the build of a second C-Worker with sea trials now taking place in the UK.
Formed in 1998, ASV provides rugged, reliable and effective unmanned marine systems using the latest advances in autonomous technology. Based near Portsmouth in the UK, ASV operates in international military and security, oil and gas, and science and survey industries.