Lycoming's new EL-005 multi-fuel engine has surpassed 10,000 deployed flight hours with the Aerosonde Small Unmanned Aircraft System (SUAS) in service of U.S. Department of Defense customers in Afghanistan, AAI Unmanned Aircraft Systems and Lycoming Engines have revealed.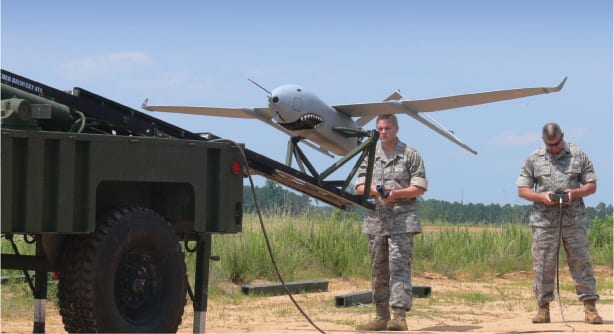 "The Lycoming EL-005 has made Aerosonde the only SUAS in its class with a power plant designed and manufactured by a recognized industry leader in manned aircraft engines," said Colonel James Rector, program manager for the U.S. Navy and Marine Corps Small Tactical Unmanned Air Systems Program Office. "This engine, along with Lycoming's quality processes for new production and remanufacture, have yielded significantly increased system reliability since the EL-005's introduction in service for our Navy Intelligence, Surveillance and Reconnaissance Services program."
The Lycoming EL-005 is a single-cylinder, air-cooled, direct-injected, spark-ignited multi-fuel engine. The five cubic inch displacement engine features electronic controls and optimization to run jet fuel.
"In taking on the prime position for engine design and production on the Aerosonde SUAS, Lycoming not only brought the product into our established aviation engine production processes, we enhanced the product in several areas," says Lycoming Senior Vice President and General Manager Michael Kraft. "The Lycoming EL-005 has brought even greater reliability and maturity to the Aerosonde SUAS. While this is certainly the smallest engine Lycoming has ever produced, the EL-005 leverages Lycoming's proven manned aviation propulsion expertise."
The Aerosonde SUAS continues to amass thousands of flight hours in theater each month in support of Department of Defense customers' long-endurance intelligence, surveillance and reconnaissance missions. Since its initial deployment overseas, the Aerosonde SUAS has amassed more than 60,000 flight hours in some of the world's harshest environments.
"The Lycoming EL-005 engine has enhanced our system with benchmark-setting reliability levels in challenging flight conditions, including extreme heat and cold," says AAI Unmanned Aircraft Systems Vice President of Small/Medium Unmanned Aircraft Systems David Phillips. "Its durability has doubled the amount of time between engine overhauls, a distinct advantage considering the high operational tempo we are maintaining for our customers. Combined with our established multi-mission capability, encompassing electro-optical, signals intelligence and communications relay within a single aircraft, our Aerosonde system sets the standard for SUAS capability."