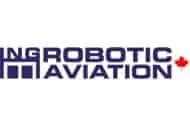 FLIR Systems, the world leader in thermal imaging systems, is pleased to announce that ING Robotic Aviation, leader in its field, has selected its products to develop robotic aircraft for aerial industrial infrared inspections and visual gas leak detection.
ING Robotic Aviation delivers airborne sensing solutions and much more. The company developed their skills through extensive operational surveillance work with the Canadian military. From these beginnings, they are now providing commercial services including critical infrastructure inspections, forest fire monitoring and land use planning in North America and other regions. Their clients are getting the right information in the right hands in a timely manner, while also discovering whole new uses and capabilities for robotic aviation. ING Robotic Aviation is at the forefront of a disruptive technological and operational change, focused on reinventing aviation.
Robotic aircraft can offer a wide variety of aerial inspection solutions including that of electrical equipment and towers, buildings and roofing, solar panels, flare stacks, fire detection and much more. With the addition of the FLIR camera and gas detection filter, ING Robotic Aviation can locate hydrocarbon gas leaks from the air to inspect pipeline, rail cars, marine vessels and more. Imagery captured is then easily analyzed with standard FLIR inspection software.