Diamond Systems, a global developer of compact, rugged, I/O-rich embedded computing solutions, has introduced the Epsilon-12G2 Express Ethernet Switch. The rugged, managed Layer 2+ Ethernet switch module offers twelve 10/100/1000 Mbps copper twisted pair ports and two small form factor pluggable (SFP) sockets in a compact COM Express form factor.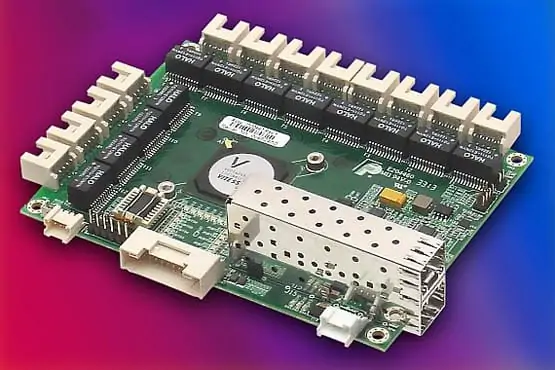 The new standalone switch does not require any host computer interface. A 480 MHz MIPS processor embedded directly into the switch manages all switch functions. The processor is accessed via an in-band web interface over one of the Ethernet ports or via an out-of-band command-line interface over an RS-232 serial port. The integrated web interface provides an intuitive GUI for configuring and managing all switch functionality.
On-board memory holds dual application images, boot code, MAC addresses and other parameters, and can also be used for program execution.
Designed for use in rugged applications including industrial, on-vehicle and military environments, Epsilon-12G2 operates over an extended temperature range of -40°C to +85°C. All I/O connectors are latching, providing enhanced reliability over the RJ-45 connectors used in commercial Ethernet switches. A 50% thicker PCB provides better protection against vibration in vehicle environments. The +5 V to +40 V wide range DC/DC power supply is compatible with all common vehicle and industrial power sources.
The switch's dual SFP socket interfaces to 1 G fiber Ethernet networks. One port can operate at an enhanced 2.5 G to support efficient stacking of two switches together for a combined total of 26 ports.
Epsilon-12G2 comes with all the required firmware preconfigured, enabling immediate operation without any development effort.