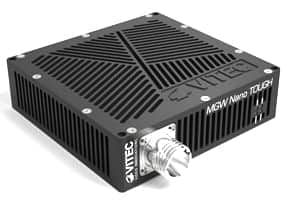 Vitec, a market leader in the design and implementation of embedded video solutions for military and civilian markets, has a new profile on Unmanned Systems Technology. The profile showcases the company's video streaming, archiving, dissemination and playback solutions suitable for unmanned aerial vehicle (UAV) applications.
Featured UAV solutions include the MGW Nano Tough – a lightweight rugged video encoder certified to MIL-STD and capable of up to 1080p HD encoding and streaming; and MGW Pico – the world's smallest 1080pHD H.264 FMV encoder.
To view VITEC's full range of capabilities within the unmanned systems sector, including their portable appliances, full motion video solution and integration products, visit their profile page: VITEC: Video Streaming, Archiving, Dissemination and Playback Solutions.