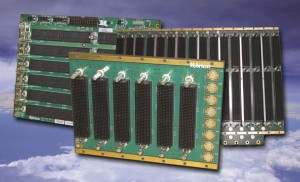 Curtiss-Wright Controls Defense Solutions has announced the industry's first 40Gbps Gen3 OpenVPX backplane. The new Hybricon® Gen3 OpenVPX 6U 6-slot Backplane, the latest member of Curtiss-Wright's Fabric40™ family, is designed for the end-to-end transmission of the high speed data required for the most demanding ground and airborne C4ISR and EW deployed applications. This Gen3 OpenVPX backplane supports full-speed, bottleneck-free distribution of data over 40Gbps Ethernet or InfiniBand® fabrics. It enables the design of a new class of embedded subsystems capable of delivering previously unobtainable levels of performance to support numerous demanding defense and aerospace applications, such as the real-time detection and identification of signals of interest.
"Our new Hybricon Fabric40 Backplane is the highest speed VPX backplane ever introduced," said Lynn Bamford, senior vice president and general manager of Curtiss-Wright Controls Defense Solutions. "Together with the other members of our groundbreaking new Fabric40 family of subsystem products, it defines a new 'sweet-spot' for COTS performance for C4ISR and HPEC applications. Delivering processing bandwidth beyond any OpenVPX backplane previously available in the embedded defense and aerospace market, this new backplane significantly reduces the signal integrity risks and data flow restrictions our customers would otherwise face when adopting 40 Gbps processing technology."
The Fabric40 Gen3 OpenVPX backplane is designed for use in both development and rugged deployed applications. In air-cooled or conduction-cooled development chassis, the new backplane speeds and eases the integration of compute-intensive radar, signal and image processing for ground or airborne platforms. Curtiss-Wright can also design application-specific configurations to meet a customer's individual requirements.
Designed to stringent Curtiss-Wright Gen3 Signal Integrity (SI) design rules, Hybricon Fabric40 backplanes exceed VITA 68 VPX compliance channel draft standard guidelines. Curtiss-Wright's proprietary SI methods minimize signal impairments, such as high return loss, crosstalk and mode conversion (patent pending), to deliver reliable SI performance at speeds up to 10.3 Gbaud, resulting in the best performance and lowest risk backplane platform in the industry.
Curtiss-Wright's innovative Fabric40 initiative ensures that all aspects of 40Gbps data fabric technology are optimally configured to work together, which greatly enhances interoperability and reduces customer integration risks and development time. Curtiss-Wright is developing all of the subsystem elements required by system designers to integrate complete, end-to-end 40Gbps embedded systems. OpenVPX systems built using the new Hybricon Fabric40 Gen3 OpenVPX backplane and complementary Fabric40 system products, such as the CHAMP-AV9 DSP engine, VPX6-6802 Switch card, and VPX6-1958 single board computer (SBC), will deliver over 2x the performance of previous generation SRIO Gen-2-based systems and 4x the performance of 10 GbE-based systems.