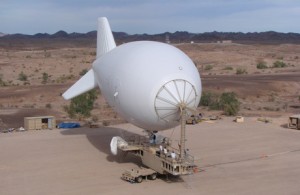 Lockheed Martin will continue to support a tethered aerostat-based system that provides real-time, around-the-clock reconnaissance and surveillance for warfighters in Afghanistan. The U.S. Army awarded Lockheed Martin a $345 million contract to operate and sustain the Persistent Threat Detection Systems (PTDS).
"PTDS has proven to be a critical asset for the protection of our forces and those of our allies," said Jim Quinn, vice president of C4ISR Systems with Lockheed Martin Information Systems & Global Solutions. "We will work in theater with the Army to ensure that PTDS continues to provide mission critical support directly to our warfighters."
Equipped with multiple sensors, PTDS is an aerostat-based system that provides low-cost, continuous communications and persistent surveillance capabilities not possible with other types of manned and unmanned aircraft. PTDS carries different types of surveillance equipment to deliver constant day and night, 360 degree detection, surveillance, monitoring and force protection.
With a very large coverage area and capable of remaining aloft for more than 25 consecutive days, the PTDS has proven quite effective providing Coalition forces with real-time situational awareness of insurgent and other illegal activity. It is used to protect soldiers deployed at forward operating bases, as well as in cities to safeguard the general public.
The Department of Army Engineers and Scientists recognized PTDS as one of the Army's Greatest Inventions of 2005, once again highlighting the value of lighter-than-air systems that were first used for surveillance by the French Army in 1794.
The Army's Program Executive Office for Intelligence, Electronic Warfare and Sensors, Product Manager, Meteorological and Target Identification Capabilities, based at Aberdeen Proving Ground, Md., will provide program and acquisition management.