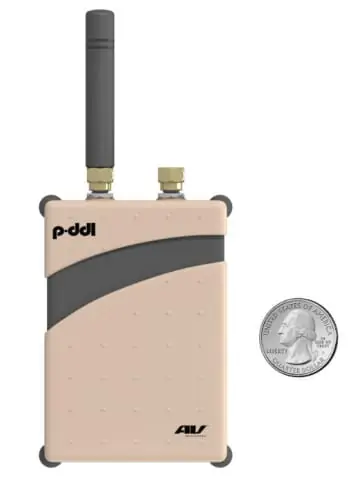 AeroVironment, Inc. has unveiled its new Pocket DDL™ secure digital video and data receiver at the 2013 AUSA Annual Meeting and Exposition. The four-ounce device enables remote viewing of video and data from AeroVironment small unmanned aircraft systems (UAS) as well as from helicopters, airplanes, other unmanned aircraft and ground robots equipped with the company's Digital Data Link.
AeroVironment's four-ounce Pocket DDL™ is as small as a deck of playing cards but provides secure remote access to video and data from DDL-equipped helicopters, airplanes, unmanned aircraft and ground robots.
AeroVironment has delivered thousands of DDL-enabled unmanned aircraft systems. Each AeroVironment small unmanned air vehicle wirelessly transmits video and data to its operator via the company's standard hand-held ground control unit and to an optional additional observer through a remote viewing terminal. Pocket DDL now gives anyone in the area secure access to view the video and data generated by any aircraft equipped with the company's DDL on commercially available smart phones, tablets or virtually any USB equipped end-user display device.
"Small unmanned aircraft systems provide unprecedented situational awareness to their operators by virtue of their ease of use, low cost and aerial vantage point," said Roy Minson, AeroVironment senior vice president and general manager of the company's Unmanned Aircraft Systems business segment. "Pocket DDL is a valuable new connectivity tool, giving more people secure access to the critical information UAS can produce. This means that troops on the ground, rescuers responding to a disaster and farmers in the field can all receive and benefit from birds-eye video and remote sensing data."
Designed for simplicity and ease of use, Pocket DDL has no exterior buttons or displays and is completely controlled through an App. No bulky video equipment is required to receive critical video and data. Future Apps will enable Pocket DDL users to communicate and transfer data through DDL-enabled aircraft networks, gaining greater value from existing infrastructure.