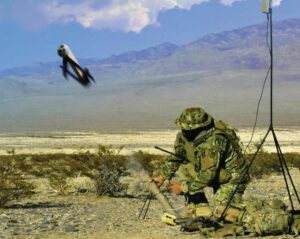 AeroVironment, Inc. has received a total of $15.8 million in orders under a contract for Switchblade™ tactical missile systems, ancillary equipment and support. The United States Army Close Combat Weapons Systems Program Executive Office Missiles and Space (PEO MS) awarded these contract options. AeroVironment and its strategic teammate for advanced warheads, ATK, will continue to work together to produce and deliver the systems.
The initial contract was issued on August 30, 2012 in support of the Army's Rapid Equipping Force (REF). The scope of work under this contract includes operational and training rounds plus training, support and rapid delivery to support ongoing customer operations. AeroVironment has received five separate orders totaling $15.8 million under this contract, including the most recent on July 29, 2013.
"Switchblade is the first smart loitering weapon, giving our troops a new force protection capability that can deliver precision effects kilometers away with in-flight retargeting, target verification and pinpoint delivery, all resulting in little or no collateral effects," said Roy Minson, AeroVironment senior vice president and general manager of the company's Unmanned Aircraft Systems business segment. "AeroVironment and ATK stand ready to deliver more Switchblade systems to protect our troops."
"Adoption of innovative new solutions within the Department of Defense is difficult in today's budget constrained environment," added Tim Conver, AeroVironment chairman and chief executive officer. "These follow-on procurements of Switchblade systems demonstrate our customer's confidence in this unique capability and the persistence required for the successful adoption and deployment of innovative solutions."
Conver added, "Switchblade is just one of a number of new opportunities driving AeroVironment's long-term growth. We are confident that our strategy is working and that our investments in pioneering new products and technologies are creating sustainable long-term value for our customers and our stockholders."
A February 2013 news article quoted the REF's director as saying, "Theater came in and said, 'We need dramatically more' " (Switchblade systems) than those supplied in late 2012. In March 2013 the Army released a presolicitation notification on the Federal Business Opportunities website for an intent to award a new sole source contract to AeroVironment for Switchblade tactical missile systems. That contract has yet to be awarded.
Switchblade provides a high-precision, direct fire capability at beyond-line-of-sight ranges in a rapidly deployable, backpackable package weighing six pounds.