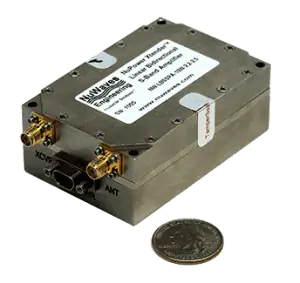 NuWaves Engineering, an international Radio Frequency (RF) and Embedded Systems solutions provider, announces the release of the NuPower Xtender(TM) Linear Bidirectional S-Band Power Amplifier (PA) module, model number NW-LBSSPA-10W-2.2-2.5, designed for use with half-duplex RF transceivers operating amplitude-modulated waveforms (e.g. OFDM, QAM). The product is the first linearized model to come from the company's new Xtender series of bidirectional power amplifiers, which are based on the successful NuPower(TM) broadband, high-efficiency, miniature PA module product line.
Leveraging analog pre-distortion techniques to maximize power efficiency and reduce power back-off requirements, the Xtender Linear Bidirectional S-Band PA generates 6 Watts of average RF output power from 2200 to 2500 MHz, given a 10 dB Peak-to-Average Power Ratio (PAPR) waveform. With continuous wave (CW) signals, the bidirectional PA generates a robust 10 Watts of RF output power. To support a variety of different data links, the Xtender features automatic transmit sensing circuitry that provides nearly instantaneous switching between receive and transmit modes, at less than 2 microseconds, as well as manual mode switching for data links with an available T/R signal output.
The latest NuPower Xtender bidirectional PA is both compact and rugged. Its nickel-plated aluminum chassis occupies only 3.00" x 2.00" x 1.15" (6.9 cubic inches) and weighs less than 6 ounces, making it ideal for integration into small platforms, such as Group 2 and Group 3 Unmanned Aircraft Systems (UAS), Unmanned Ground Vehicles (UGV), etc. The Xtender's optional integrated low noise amplifier (LNA) provides 8 dB of small signal gain and lowers the maximum noise figure to 3 dB in order to improve the receive performance of the entire communication system. Custom frequency band configurations ranging from 500 MHz up to 4.2 GHz are possible with the Xtender design.
"NuWaves' application of leading-edge amplifier linearization techniques is accelerating the evolution of power-efficient bidirectional power amplifiers for modern communication systems," said Jeff Wells, President and CEO of NuWaves Engineering