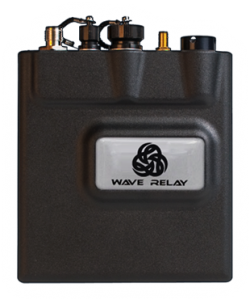 Persistent Systems, a revolutionary technology company that specializes in mission critical communications, will be displaying their industry-leading developments in machine to machine communication at AUVSI 2013.
The company will exhibit its Mobile Ad-Hoc Networking (MANET) solution, the Wave Relay® suite of products, at the AUVSI Unmanned Systems Conference in Washington D.C. on August 12-15th at booth 3043. Wave Relay® creates a rapidly converging network capable of providing seamless connectivity to each transceiver node on land, sea or in the air even in the most inclement conditions.
"The AUVSI conference is the world's leading event focusing on the unmanned systems and robotics community," Persistent Systems co-founder and CEO Dr. Herbert H. Rubens explains. "We are excited to showcase our capabilities and unique technologies that have a track record of exceeding our customer's expectations in the field. We are able to offer a secure and "true" mobile ad hoc networking system with our Wave Relay® product line, which is capable of running data, voice, video, and other demanding applications under the most difficult and unpredictable conditions. We look forward to strengthening existing relationships and developing new ones during this global event."
WAVE RELAY PRODUCT SPOTLIGHT AT AUVSI 2013:
Bigger isn't always better when it comes to technology, and the Persistent Systems team is proving that great innovations come in small packages. The company proudly announces the Gen4 Integration board from its Wave Relay® technology line.
Each unit provides enough bandwidth for command and control, video transmission, voice communication and sensor control within its industry leading MANET networking protocols. "End users and system developers are improving their systems by incorporating Wave Relay® in situations that require scalable, secure, low latency communication for high bandwidth applications," explains Adrien Robenhymer, Vice President of Business Development and Marketing.
As the amount of unmanned vehicles on the ground and in the air increases, Persistent Systems has evolved their product suite to include the compact Gen 4 Integration board, which is small enough to be integrated into any vehicular or ground station product, but still takes full advantage of the revolutionary Wave Relay® MANET technology that Persistent Systems offers.
"As the U.S. Defense Department moves towards increased reliance on such unmanned vehicles, we need better ways to control and communicate through them," adds Herbert. "The Persistent Systems team continually seeks to innovate products and technology that support these needs and are proud to offer this revolutionary compact radio board."
The Gen4 (MPU4) is a compact radio designed for installation or user-worn applications. Seamless Layer-2 Ethernet connectivity facilitates plug-and-play operation of cameras, video encoders, IP sensors, and other devices. The device is easily integrated into avionics bays, vehicles, machinery, and other third party systems.
PERSISTENT SYSTEMS BEYOND THE BOOTH SHOWCASE AT AUVSI 2013:
Wesley Mitchell, a Persistent Systems Account Manager, will host a Beyond the Booth Showcase on August 13th at 11:30AM in Washington D.C. With a focus on providing the information from unmanned vehicles to the people that need it most in real time with Persistent Systems' off the shelf solutions, Persistent Systems will highlight the following capabilities at the 2013 AUVSI Conference:
Wave Relay®
Mobile Ad-Hoc Networking (MANET) Solution
Wireless Secure Scalable Communications
High Throughput, low latency, peer to peer Routing
Aircraft MANET networks at extended ranges
Ground Robots using MANET in caves and building
Unmanned air, ground, and surface MANET use cases
Recent successful demonstrations of Wave Relay®