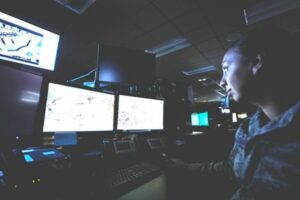 Lockheed Martin teams provided exploitation of intelligence, surveillance and reconnaissance (ISR) capabilities at a level never before achieved during Red Flag, the U.S. Air Force premiere aerial warfare exercise.
During the exercise, live imagery from manned and unmanned aircraft was disseminated in near real-time to the Distributed Common Ground Station Imagery (DCGS-I) mobile test bed, which is used by the Department of Defence to test ISR capabilities prior to their introduction into an operational environment.
"Red Flag was a huge success, and a large chunk was due to the DCGS-I capabilities," said Lt. Col. Christopher Reiz, the 526th Intelligence Squadron commander. "DCGS-I was a critical part of our High Altitude mission and pivotal to the successful execution of reconnaissance missions and in providing realistic combat training."
Red Flag exercises are realistic aerial war games intended to prepare pilots from the U.S., NATO and other allied countries for combat situations. This is the first time that the Air Force brought together not just the platform and supporting sensors, but also the analysis of the collected intelligence data, as well as the communications paths upon which the data travels.
"This is a major step forward in exploring the true potential of real-time intelligence," said Jim Quinn, vice president of C4ISR systems for Lockheed Martin Information Systems & Global Solutions. "The value that analyzing and sharing ISR data offers for success in future conflicts is clear: a holistic understanding of a complex battlespace."
During Red Flag, raw intelligence from manned and unmanned ISR assets was sent to DCGS-I, which served as the primary data link, processor, and delivery mechanism for the Synthetic Aperture Radar (SAR) imagery taken from the U-2, as well as the backup data link for the SAR and infrared imagery taken by the Global Hawk. Analysts reviewed the data, and in collaboration with the Air Operations Center, sent the intelligence products to users, allowing for a more effective prioritization of combat assets.
Users from dissimilar classification environments were able to review imagery gleaned from the airborne platforms through the use of Lockheed Martin's cross domain solution Trusted Manager (TMAN). TMAN automatically disseminated imagery from the secret DCGS-I environment to the top secret Air Force common workstations, allowing airmen to work seamlessly at both the secret and top secret security levels.