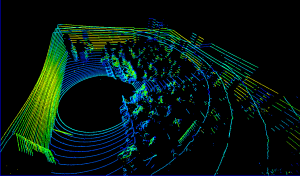 Featured as a leader in revolutionary technology, Velodyne LiDAR recently presented a seminar at NACSA's "Beyond Semiconductor: The New Trend of Technology" informational and networking event in Santa Clara, CA.
Sponsored by InnoSpring, the North America Chinese Clean-Tech & Semiconductor Association (NACSA) invited technological veterans to present on new technologies on the rise to interested professionals and entrepreneurs in the industry. One of these distinguished veterans was Wolfgang Juchmann, Ph.D., and Product Marketing Manager for Velodyne LiDAR.
Juchmann brings more than 13 years of international experience in technical sales, product management, and marketing for industrial lasers, gaining a significant amount of his expertise from Germany, including his Ph.D. in Laser Spectroscopy from the University of Heidelberg.
In his current role at Velodyne, he is responsible in leading new LiDAR developments and managing existing product portfolios to the customer's high standards.
Accompanied by Velodyne's High-Definition LiDAR (HDL32) on stage, Juchmann demonstrated the use of LiDAR applications in 3-D mapping, autonomous driving and surveillance/security.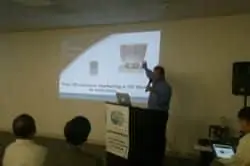 The audience was able to experience the mapping technology themselves as the HDL32 sensor captured their every movement in 3D in real-time.
Other presentations at the NACSA seminar included keynotes on LED projection and Lithium-ion battery. These trending technologies, along with LiDAR are significantly broadening opportunities for all industries in the future.