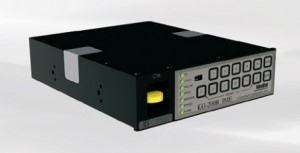 The National Security Agency / Central Security Service (NSA/CSS) has certified the KG-200R Hardware Encryptor, a ruggedized inline media encryptor from ViaSat Inc. that protects classified (TS/SCI and below) Data at Rest (DAR).
The KG-200R meets or exceeds MIL-STD-810F and F-15/F-18 Air Worthiness Requirements (AWR), providing Type 1 encryption to protect classified DAR in the most extreme, environmentally-challenging missions and tactical deployments.
Built to withstand the temperature, shock, vibration, and embeddable requirements of severe airborne, sea, and land environments, the KG-200R ensures that classified data is securely encrypted on a hard drive no matter the mission.
Once installed, the ruggedized inline media encryptor is designed to render all data unclassified, reducing the risk of compromise, data vulnerability, and handling of classified storage drives.
The KG-200R encryptor protects data in even the most extreme conditions for classified DAR compliance (J-6 6510.01F Directive) including:
ISR aircraft
Helicopters
Fighter jets
Remote military outposts
International traveling envoys
Any mission performed in severe environmental conditions