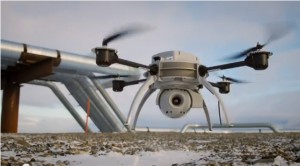 In Prudhoe Bay, Alaska, BP conducted pilot testing of Unmanned Aerial Vehicle  technology to enhance pipeline inspection and safety.
Equipped with high-resolution cameras, the Aeryon Scout VTOL UAV provides visual inspections of equipment, helping crews assess and respond to maintenance needs. The small rotor-wing aircraft is flown from a hand-held tablet computer.
BP Alaska conducted the trials in cooperation with the University of Alaska Fairbanks (UAF) in Fall 2012.