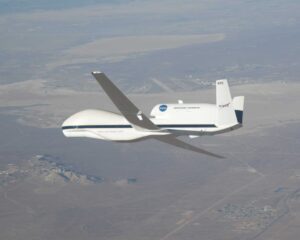 NASA is inviting social media followers for a behind-the-scenes look at several airborne Earth science missions during an event Jan. 25 at NASA's Dryden Flight Research Center in Edwards, Calif. 
Social media users may apply for credentials to meet scientists and learn how they study the Earth using specialized science instruments on a unique fleet of aircraft.
Three major Earth science missions that will be airborne studying air pollution and climate change next month will be featured.
NASA's high-altitude unmanned Global Hawk aircraft will fly six miles above the surface to a region of the atmosphere that controls the entry of pollutants and other gases into the stratosphere. NASA's Airborne Tropical Tropopause Experiment (ATTREX) will look at how these gases influence Earth's climate, ozone layer and energy budget.
Two NASA planes will fly over the San Joaquin Valley to measure air pollution this winter. They are part of a five-year NASA science campaign called DISCOVER-AQ, which is working to improve the ability of satellites to observe air quality in the lowest part of the atmosphere. The goal is to better monitor pollution from satellites, so scientists can make better air quality forecasts and more accurately determine the source of pollution.
NASA's high-altitude ER-2 will fly three state-of-the-art instruments to develop new orbiting sensors to better measure aerosol and cloud physical properties around the world. These new instruments, part of the Polar Definition Experiment, show great promise for advancing aerosol measurements from space. Tiny aerosol particles can be found over oceans, deserts, mountains and forests. Despite their small size, aerosols have major impacts on our climate and our health.
Social media users selected to attend the event will be given the same access as news media. Individuals who actively collect, report, analyze and disseminate news on social networking platforms are encouraged to apply for credentials. Selection is not random. Those chosen must demonstrate through the registration process they meet specific engagement criteria. All social media accreditation applications will be considered on a case-by-case basis. A maximum of 50 participants will be chosen from online registrations.
NASA social media accreditation opens at noon EST (9 a.m. PST), Wednesday, Dec. 5. Foreign national and U.S. social media users must apply for credentials by 7 p.m. EST (4 p.m. PST), Monday, Dec.10.
For more information about NASA social media accreditation requirements and to register for the, visit: http://www.nasa.gov/social
For more information about NASA's Airborne Science Program, visit:http://airbornescience.nasa.gov/
For more information about NASA's Earth Science Program, visit: http://www.nasa.gov/earth