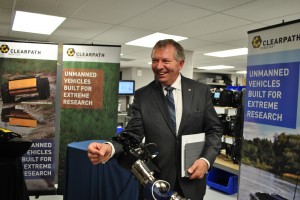 In a ceremony at their Kitchener offices, Clearpath Robotics was officially awarded over $200,000 in IRAP and DTAPP funding by Minister of State for Finance, Ted Menzies, and Harold Albrecht, MP Kitchener-Conestoga. This funding will go towards a tailored IT system, which will streamline internal processes, reduce irregularities, allow for workflows tailored to specific company needs, and ultimately increase efficiency. The end result is a growing company that is able to compete on a global scale, bringing the technology industry to Ontario, and creating jobs and revenue in the process.
Minister Menzies noted Clearpath's ability to "take a passion and turn it into functioning equipment that can help out in research and agriculture," and made special note of the new Kingfisher M200 Unmanned Surface Vessel, which he called "an incredible opportunity to ensure we're treating our water with all the respect that is due to it".
Mr Albrecht discussed Waterloo Region's leadership as a technology hub, and stressed that "promoting innovation and development is key to the economic prosperity of the country."
"We're very proud as a government to be able to support research and development, and even more so, see it actually become functioning technology used not only in Canada, but across the world," said Minister Menzies.