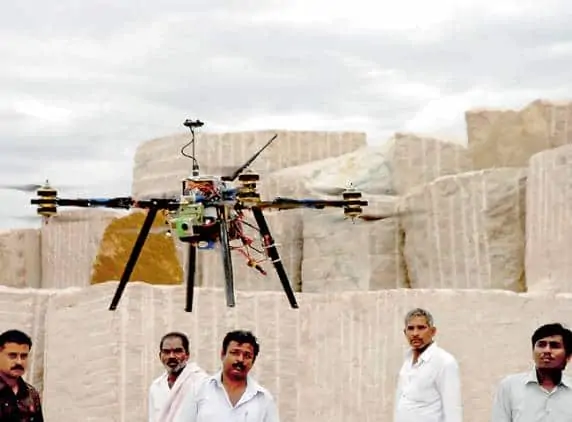 District Collector Anshul Mishra said on Friday that a six-member team deployed an Unmanned Aerial Vehicle (UAV) to inspect the granite quarry at Idayapatti, in Madurai district on Friday.
The pictures downloaded from the UAV were not only exhaustive but also precise. It helped in unravelling the huge volume of granite stones stocked in open yards. There are several teams engaged in the inspection of granite quarries at Idayapatti, Keelavalavu, Therkutheru, Tiruvadavur and other places. One team at Idayapatti, while inspecting the stock yard belonging to PRP Granites and Exports, came across a secret chamber.
The top layer of the stones stashed in the yard was plastered with cement. Though the officials suspected some object hidden in the chamber, they could not go beyond.
The deployment of the UAV not only spotted it but also gave specific details of what was stored inside the chamber, said Jayasingh Gnanadurai (PA to Collector), who was present at the quarry with the UAV team from Anna University, Chennai.
Interestingly, in between the stashed stones, the secret chamber, which looked like a "container" measuring 10×10 with a height of three metres, was spotted by the UAV team. "A look into the secret chamber through the cameras unravelled that there were about 250 answer sheets – all blank – belonging to the Madurai Kamaraj University. There were some other papers/documents inside the chamber," Mr. Mishra said, who had a look at the pictures.
The UAV team, led by K. Senthil Kumar, would be engaged in the inspection of quarries for some more days, the Collector said and added that so far 1.31 lakh stones had been counted, excluding those in Therkutheru, which belongs to PRP Granite and Exports, where around 40,000 stones were lying. The counting of stones should in all probability get over in about a week's time.
The portable UAV is designed for over-the-hill reconnaissance to provide imagery intelligence in real time.
With high definition cameras, the UAV is well equipped and can fly up to 1000 metre altitude and would be useful in the inspection, Mr. Mishra said.
The Special Officer appointed by the government, in the rank of District Revenue Officer, is engaged in the assessment of stones identified by the teams so far. Simultaneously, a team comprising officers from Geology and Mines Department had started assessing the quality and variety of stones in the granite quarries, which would facilitate in understanding the real worth in terms of monetary value, he replied.
Out of the 175 quarries taken up for inspection since 36 days ago, the teams have found that 94 among them had allegedly committed violations of various kinds, while 54 were engaged in illegal mining and others had encroached upon poromboke lands for quarrying.
The police would investigate how the MK University's 250 answer sheets found a place in the secret chamber, the Collector said.
Source: The Hindu