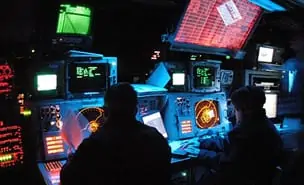 RGB Spectrum, a leader in videographic processing technology and decision support systems for control rooms, conference rooms, operating rooms and defense, today introduced a new line of DSx™ H.264 codecs for streaming and recording graphics and HD video.
The DSx™ 300 codec offers advanced H.264 compression provides an unmatched combination of best-in-class image quality, performance and feature-rich capability for recording and streaming, available in a rugged enclosure for challenging environments.
The codec encodes and streams graphics and HD video at up to 1920×1080 resolution, using H.264 high profile compression, which delivers superior image quality compared to the main and baseline profiles used in most other codecs.
In addition, the codec offers recording to local USB storage devices as well as to external network storage devices, such as RAIDs or servers. Moreover, streaming and recording can be done concurrently. IP streams can be decoded with commercial off-the-shelf PC software or, where very low latency is required, DSx codecs. When decoding, the unit can display one graphics/HD image or four SD images.
Leading-edge features include concurrent recording and streaming, optional simultaneous recording and replay, on-screen display (OSD) with titling and time code, external time code synchronization, event marking, variable speed playback, random access, and confidence monitoring. Operation is made simple using an embedded web-based graphical user interface.
The codec is packaged in a compact, fanless, rugged enclosure. To assist integration, the codec offers Power-over-Ethernet (PoE) as well as external power. A single/dual unit 1RU tray is available for rack mounting.
As a special order option, the DSx 300M model is available without USB ports for extra security.
The combination of superb image quality, rich feature set, compact size, robust packaging, and 24/7 reliability makes the DSx 300 codec the ideal solution for mission-critical applications.
RGB Spectrum® is a leading designer and manufacturer of videographic and decision support systems. Products include the View™ family of video windowing systems, ComputerWall® and MediaWall® multi-screen display controllers, Linx™ DVI Matrix Switchers, DGy™ digital recording system, DSx™ H.264 streaming and recording codecs, MultiPoint KvM control room decision support systems, RGB/Videolink® scan converters, and SynchroMaster® keyers and overlayers.