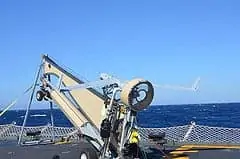 When Canadian frigate HMCS Regina heads for the Arabian Sea region in July, it will deploy with an unmanned aerial vehicle detachment.
The ship will carry a small remote-controlled drone – essentially a tiny airplane that can fly for hours on end – that can capture high-quality images and data used for intelligence-gathering, surveillance and reconnaissance.
"This is something of a first for a West Coast ship," said Cmdr. Jason Boyd, who took command of Regina on May 18.
The aerial vehicle will likely prove useful when the ship conducts patrols as part of an American-led naval counterterrorism operation underway in the Gulf of Aden, Gulf of Oman, Arabian Sea and Indian Ocean.
"Like any unmanned air vehicle, they're used as an extension of your ship's sensors to broaden your reconnaissance capability, basically," Boyd said.
"That's the effect that the navy brings, is that we're able to easily re-role and take on new things such as this. We're very flexible."
The crew's job during the seven-to-eight-month mission, he said, will be to look for suspicious ships, take note of traffic patterns and act as a deterrence in an unstable region.
"We're just looking for things that stand out in the area, from the flow of narcotics to supply money to fund (terrorism), to the transporting of key personnel, to the transporting of weapons – anything relating to counterterrorism is what we're looking for."
When Regina leaves CFB Esquimalt, it will carry 260 crew, including Sea King maritime helicopter personnel and specialists who will operate the covert unmanned drone.
The frigate is replacing HMCS Charlottetown, an East Coast frigate that left for the Mediterranean Sea in January.
Charlottetown's mission changed May 3 when it was ordered to the Arabian Sea, where some of the most important shipping lanes in the world are said to be situated. An unmanned aerial vehicle stationed on the vessel has been credited for playing a critical role in spotting ships involved in running drugs.
Regina's crew is eager to begin their mission, though there is still some training to do in the coming weeks with the Sea King team, and testing of ship systems, following a recent six-week maintenance period.
"Any operational mission is always exciting for the crew," said Boyd, an Esquimalt resident. "We train to do this and this is what the sailors sign up for."
The upcoming mission is seen as a plum assignment by those on board, he added.
"This is certainly the best trip on the coast right now. There's always interest from all sorts of trades wanting to do a deployment like this."
Boyd is also looking forward to putting his 19 years of Canadian naval experience to the test.
"As a captain, this is the kind of mission that you dream of. I'm the envy of every captain in the fleet, both east and west. You dream of one day being in command of a ship that represents your government overseas, and doing an operational mission."
Source: Goldstream Gazette