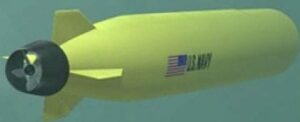 ARLINGTON, Va., 30 May 2012. Unmanned underwater vehicle (UUV) experts at the U.S. Office of Naval Research (ONR) in Arlington, Va., are asking engineers at Lynntech Inc. in College Station, Texas, to develop a prototype propulsion and power system for a future long-endurance UUV under terms of an $18 million contract awarded earlier this month.
ONR is asking Lynntech over the next 18 months to develop a prototype UUV propulsion system that measures 30 inches long by 18.5 inches in diameter that delivers 42 to 68 kilowatt hours of power for at least 30 hours. The project is part of ONR's Long Endurance Undersea Vehicle Propulsion research program.
Navy UUV designers need technology to extend the endurance of future UUVs from the current 10 to 40 hours to several days or weeks, ONR researchers say. Today's high-energy density batteries alone are not up to the task, so the Navy is asking Lynntech to develop solutions beyond battery-only technology.
Lynntech focuses on research in energy and power, embedded systems, materials, industrial sciences and life sciences with its resources that include analytical laboratories, computational modeling, instrumentation, machining, and fabrication.
If Lynntech researchers performs well, ONR officials may award the company contracts for three more years for full-scale testing of the UUV propulsion system prototype in a technology-readiness-level (TRL) 6 land-based demonstration. ONR may award additional contracts for this project.
Lynntech began operations in 1987 performing government research and technology development, and evolved into prototype development and explorative research in aerospace, cybernetics, industrial processing, and biochemical sciences. The company offers conceptual design, experimental analysis, prototype creation, market positioning, and commercial production.
With its participation in the ONR Long Endurance Undersea Vehicle research program, Lynntech joins other companies trying to push long-endurance UUV technology forward.
Last month ONR officials announced plans to award a $5.9 million three-year contract to Hydroid Inc. in Pocasset, Mass., to develop an autonomy testing system for the future Large Displacement Unmanned Underwater Vehicle Innovative Naval Prototype Technology (LDUUV INP) program, which seeks to develop machine autonomy and long-endurance propulsion systems for large unmanned underwater vehicles (UUVs).
ONR's LDUUV INP project seeks to develop a large unmanned submarine able to operate in the open ocean and in coastal waters and harbors on missions lasting more than 70 days to gather intelligence, surveillance, and reconnaissance (ISR) information. The LDUUV INP program is in place to develop UUV autonomy and long-endurance propulsion systems for large UUVs.
The LDUUV is to be a pier-launched and recovered large unmanned submersible able to operate in the open ocean and conduct over-the-horizon sensor missions in coastal waters and harbors.
Source: Military & Aerospace Electronics