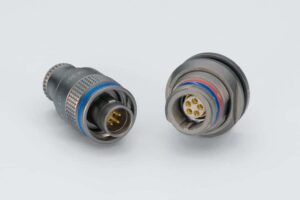 LEMO, a global leader in the design and manufacture of precision custom connection solutions has announced a NEW precision engineered connector series designed specifically for military, energy, alternative energy, industrial automation, performance automotive and other harsh environment applications that require robust performance in a lightweight compact size. LEMO, known for their original push-pull connector technology, is now offering this new twist lock, lightweight aluminum connector series in a smaller compact size to address the needs of the harsh environment applications. The LEMO M Series Connector has been uniquely designed for these applications that require a durable, yet reduced weight in a compact solution. This new connector series design was focused on the designer and/or engineer that require a MIL-38999 type of connector but in a much smaller and lightweight package, giving up none of the vibration, RFI, water ingress or corrosion specifications.
The high performance M Series provides a ratchet locking, screw coupling, system that enables single grip, quick and secure, coupling of the connectors for high vibration environments. With a low luster gun-metal finish, the connectors are watertight to two meters for fifteen hours (IP68). Plugs come with two grip designs: a standard knurl grip or an arctic grip to allow secure mating while wearing gloves. Receptacle styles include jam-nut or flange panel mount with crimp contacts, PCB pins, or in-line cable mount shells. All connectors are identified with a laser engraved part number and production batch number to ensure complete traceability from the raw materials.
The M Series connector family provides full 360 degree shielding and high shell conductivity to ensure excellent EMI protection. The over-mold feature provides for additional cable strain and flex relief, for improved aesthetics and cable mount reliability.
The M series is ideally suited for use in military applications such as aircraft control and sensors, land vehicles and payloads, UAV (Unmanned Aerial Vehicles), UVS (Unmanned Vehicles Systems), robotics, personal battle equipment, electric vehicle applications and training simulation equipment. With its insensitivity to oil and gas, the connectors are ideally suited in many industrial automation settings such as: motorsports, hybrid and electric vehicle applications, and wherever the environmental conditions require rugged but lightweight components.
LEMO also provides value added services such as cable assemblies, over-molding, prototyping and custom designs with the same uncompromising commitment to quality.