In this article, gNext Labs discusses how its cloud-based gNext Platform converts images collected by drones into accurate digital models to create dynamic mapping and analytics for cell tower inspections. 
---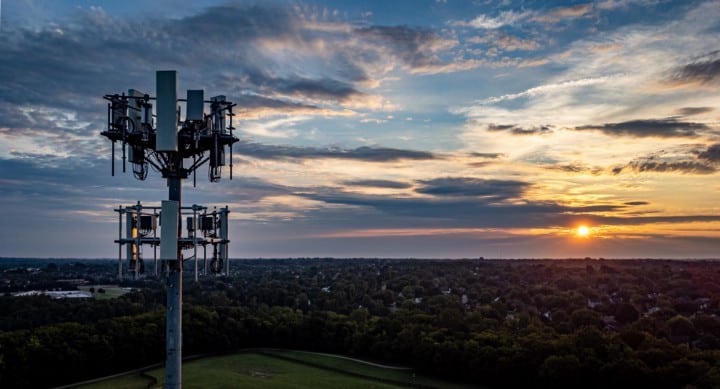 In CTIA's latest survey (1), investments in wireless networks reached a five-year high in 2020, with over 417,215 cell tower sites located throughout the United States. Cell towers are where electric communication equipment is mounted and allow the surrounding areas to use wireless communication devices.
Cell towers are essential to our society for a number of reasons, the biggest one being they play a substantial role in the future of networks and telecommunication infrastructure. In this day and age, businesses, governments, and the general public cannot function without this type of infrastructure. If a cell tower were to shut down unexpectedly due to damages or faulty equipment, two things are likely to happen. The surrounding communities would be without a means of modern communication, or they would heavily rely on the closest functioning cell tower. Cell towers serving a high volume of devices will diminish the signal quality and increase dropped calls, making typical communication methods difficult and frustrating. As technology continues to advance and evolve, more cell towers will be installed, and they will need to be inspected as mandated by the Federal Communications Commission (2).
Traditional Cell Tower Inspections
Cell tower inspections are a dangerous job. The average cell tower can range from 100 to 1,000 feet and comes with its own set of fall risks. Moreover, cell tower equipment that is installed on these sites emits radio-frequency radiation. A high level of radiation exposure delivered over a short period of time can cause multiple health issues. In addition to that, manual cell tower inspection costs an average of $1,000 to $4,000 per site (3) after time, engineers on the job, equipment, and travel are factored in.
So it begs the question; what can we do to ensure inspections are done quickly, efficiently, and safely? Enter gNext.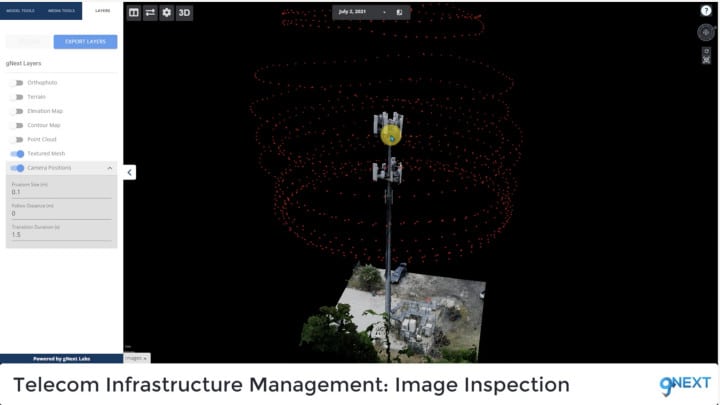 Detailed Cell Tower Inspections with gNext
gNext was built to solve challenges facing the infrastructure industry. With the help of the cloud-based gNext Platform, infrastructure asset owners are able to perform detailed and accurate cell tower inspections quickly and efficiently. Using images collected by drones, gNext converts them into accurate digital models, providing dynamic mapping and analytics for cell tower inspections. Inspectors can inspect an entire cell site in a safe, digital environment, allowing for better cell tower construction. When using the gNext Platform to inspect cell towers, end users are able to see aging issues, damages, and other structural vulnerabilities in a timely manner. In addition, cell tower owners can perform audits that can bill back carriers who place equipment on towers or receive money from vendors.
Take your inspections to the next level by leveraging the gNext Platform to:
Decrease inspection times
Reduce risk
Save time and resources
Easily scale inspection data
Prepare for 5G
Audit equipment
Decrease Inspection Times
The typical cell tower inspection takes roughly six to eight hours per site — now multiply that by 417,215 cell towers. Each inspection requires multiple safety checks, maneuvering heavy equipment, scaling the height of the tower, and performing the inspection. With gNext, inspectors are able to significantly decrease inspection times by automating workflows to perform cell tower inspections while keeping their teams safe with aerial-collected data. Using highly accurate 3D, mesh and point-cloud models, inspectors can document, assess, and monitor the condition of cell tower assets.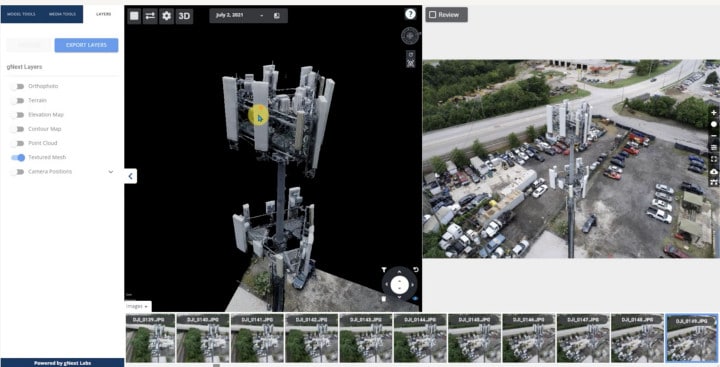 Reduce Risk
Understanding cell tower conditions helps to properly manage and reduce the risk associated with cell tower inspections. Drones can get the job done by providing inspectors with information like asset condition, dimensions, and location. They can easily assess the condition of each and every component of a cell tower from different angles. gNext makes it possible to inspect cell towers quickly and safely, without the risk of falling, radiation, or the cost of the typical cell tower inspection.
Save Time & Resources
The traditional cell tower inspection requires large teams of technicians who are paid by the hour on top of travel expenses. By leveraging gNext's resources, a single cell tower inspection can be performed in a fraction of the time. Unlike traditional inspections, drone inspections allow cell tower operations to continue as normal, meaning asset owners won't lose revenue due to site downtime. By leveraging drones for inspection, inspectors are able to catch maintenance issues early to prevent them from developing into costly problems in the future. gNext's easy-to-use software ensures detailed inspection reports, making it easier for cell tower owners to file insurance and warranty claims, in turn saving thousands of dollars upfront.
Easily Scalable
The gNext Platform empowers infrastructure asset owners to visualize their data and gather valuable analytics in a highly scalable environment. Since inspections with gNext drone imaging are scalable, inspectors are able to increase the number of cell towers they inspect. Leverage our subject matter experts who are able to advise on SOP's and data collection methods to ensure proper model creation on a large scale.
Prepare for 5G
5G is increasing the demand for new infrastructure management solutions even more. Experts believe (4) the number of cell towers will reach one million as US carriers roll out 5G nationwide. Cell tower inspectors perform over 35,000 site visits a year for typical inspections. With 5G coming down the pike, that number is steadily increasing.
After inspections are completed and reports are delivered, stakeholders still can't use the data efficiently. While drones are paramount for data collection, without platforms to accurately manage that data, it can quickly become overwhelming. Instead of digging through a mess of zip files, databases, and USB drives, leverage the gNext Platform. gNext enables inspectors, tower owners, and service providers to view all their data in one collaborative environment. With the help of gNext, the cell tower inspection industry has the potential to streamline and automate its processes indefinitely.
Request a Demo of the gNext Platform
gNext seeks to partner with asset owners and inspection service providers by offering a cloud-based platform to accurately and efficiently inspect cell towers, ensure safety, and prepare for the growing number of cell towers across the United States. Take your asset inspection and digitization to a new level with gNext. Request a demonstration and watch the platform in action.
---
(1) https://api.ctia.org/wp-content/uploads/2021/07/CTIA-2021-Annual-Survey-Highlights_0727Update.pdf
(2) https://www.fcc.gov/wireless/bureau-divisions/competition-infrastructure-policy-division/tower-and-antenna-siting
(3) https://wirelessestimator.com/content/industryinfo/312
(4) https://www.redmtnsci.com/tower-study