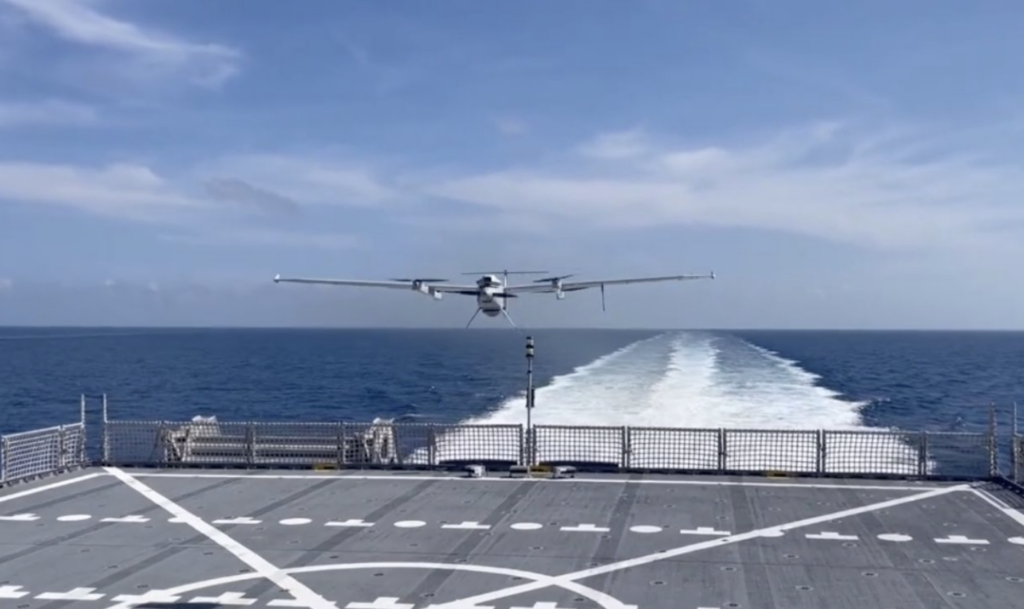 AeroVironment demonstrated the JUMP 20 vertical take-off and landing (VTOL) Medium unmanned aerial system (UAS) during the recent U.S. Naval Forces Southern Command/4th Fleet Hybrid Fleet Campaign Event (HFCE).
The JUMP 20 provided ship-based intelligence, surveillance, reconnaissance, and targeting (ISR-T) support to USFOURTHFLT and USSOUTHCOM during the week-long, at-sea exercise aboard USNS Burlington.
According to AeroVironment, the JUMP 20 has previously flown over 130,000 land-based hours in support of U.S. Special Operations Command combat deployments, and the expansion of JUMP 20 operations into the shipboard environment allows the company to provide these services globally.
During HFCE, JUMP 20 showcased its ability to launch and recover at vessel speeds over 20 knots, with fully autonomous flight from takeoff to landing. The JUMP 20 requires neither launch or recovery equipment, nor personnel on the flight deck during launch and recovery, maximizing operational safety and flexibility for users. JUMP 20's VTOL capability, endurance and payload capacity expand the operational capabilities of U.S. and allies to compete in the era of great power competition.
The JUMP 20 demonstrated how uncrewed systems will support distributed operations across multiple domains, supporting national security objectives and warfighters.
"The shipboard flight environment is dynamic and challenging. JUMP 20 is a proven combat-effective platform, and the system's performance during HFCE illustrates the value to maritime operations. JUMP 20's ability to launch and land at speed, and without personnel intervention, enhances the ship's operational effectiveness and enables operators to focus on important mission tasking," said Shane Hastings, AeroVironment's Vice President and Product Line General Manager for Medium UAS. "As we continue to demonstrate and prove the effectiveness of the JUMP 20 platform, we look forward to getting this capability in the hands of our sailors, Marines, and allies operating in the maritime environment."
Vertical Take-Off and Landing (VTOL) Drone manufacturers > >