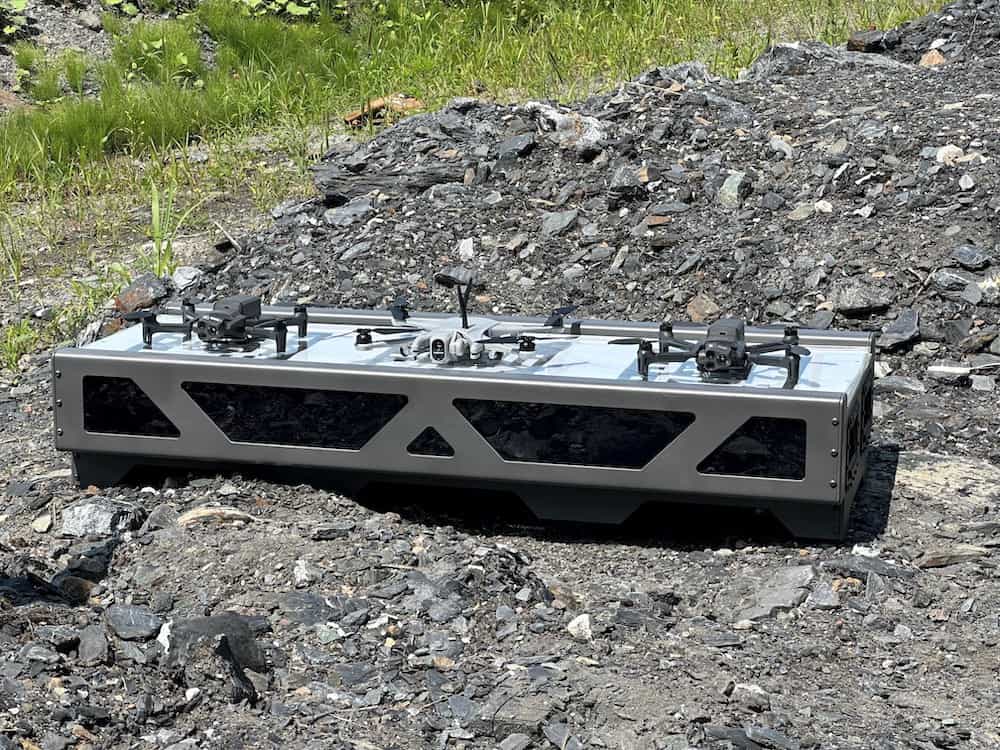 Canada-based innovative technology company Quaze Technologies, the creator of wide-surface wireless power transfer, introduced their revolutionary autonomous wireless power transfer capabilities to the US defense sector at AUSA 23.
Quaze had a senior team on the ground at AUSA in Washington DC and were on-hand to demonstrate their ground-breaking technology.
The US announcement followed on from DSEI in September where the Quaze concept demonstrator remote charging solution, named Drone Swarm Tactical OverWatch (DSTOW™), was featured as part of Rheinmentall's innovation portfolio.
The DSTOW addresses a critical need in the world of drone operations, enabling the continuous aerial support of tethered drones with the flexibility and freedom of untethered flights. With just one Quaze DSTOW, drones of any make or model can charge wirelessly and simultaneously, ensuring reliable charging even in the most hostile environments.
This reduces the constraints associated with battery levels, connecting charging cables, or swapping batteries. It's seamless, efficient, and paves the way for autonomous and uninterrupted drone missions.
The DSTOW's versatility extends across platforms and applications. Whether mounted on various vehicles or employed in static operations, such as mobile command centers, the DSTOW remains a dynamic solution. Its adaptable form factor accommodates UAVs of all sizes and seamlessly integrates onto diverse platforms, ensuring the readiness of drones for extended missions or remote swarm operations.
Quaze's Surface Power Technology revolutionizes the way devices are powered, enabling easy and reliable wireless charging for remote or autonomous devices on land, sea or air.
Powered by magnetic resonance this technology offers a safe, secure and seamless solution to efficiently charge multiple devices with variable power demands across a wide platform surface area.
Quaze remote charging surfaces are scalable to suit various demands and the potential applications in defense are vast, by freeing technology from the constraints of cables and redefining how electronic systems access power. Quaze have designed and developed their solid state volumetric technology to be compliant with relevant Electromagnetic Interference (EMI) and Electromagnetic Compatibility (EMC) standards.
Xavier Bidaut, CEO at Quaze Technologies said, "We were overwhelmed by the amount of interest shown in our technology when we introduced our DSTOW to the European defense sector at DSEi". He added: "Together with Rheinmetall we have already showcased one particular charging application. However, there are many more potential applications being developed and as interest grows across the defense environment, more and more applications are becoming apparent."
Quaze are interested in reaching out to the research and development agencies across the US DoD as well as sparking interest in the wider US user community, regarding their unique wireless charging technology.