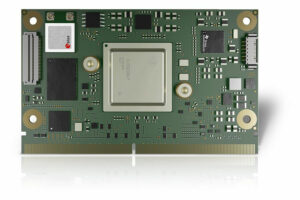 congatec has confirmed that the company is expanding its portfolio of embedded and edge computing solutions with the addition of Texas Instruments (TI) processors. The first solution platform to be released is the conga-STDA4, a SMARC Computer-on-Module featuring the industrial-grade Arm Cortex-based TDA4VM processor.
Using a system-on-chip architecture, TI incorporates accelerated vision and AI processing, real-time control, and functional safety capabilities into their TDA4VM processor. This Dual Arm Cortex-A72-based module is designed for industrial mobile machinery requiring near-field analytics, such as automated guided vehicles, autonomous drones and mobile robots, and construction and agricultural machinery. Further application areas are any vision-focused industrial or medical solution requiring powerful but energy-efficient artificial intelligence (AI) processors at the edge.
Integrating the powerful TI TDA4VM processor on a standardized Computer-on-Module simplifies the design-in process of this powerful processor technology, allowing designers in various embedded industries to focus on their core competencies. This is advantageous as companies save up-front costs and shorten the time to market compared fully customized designs, especially if they are producing lower quantities of their solutions.
Srik Gurrapu, Industrial Business Lead (Processors) at Texas Instruments, commented: "Collaborating with a computer-on-module provider like congatec on their application-ready modules is a key benefit to engineers who are working with our Arm Cortex-based processors like the TDA4VM. Industrial OEMs, especially those who don't have the resources to invest in full custom designs, can benefit from innovative SMARC COMs that help streamline design while enabling high design security and low NRE costs."
Martin Danzer, Director of Product Management at congatec, noted: "We see that autonomous driving based on AI and computer vision is one of the most important markets for embedded and edge computing technologies beside the second major growth accelerator digitization. TI offers highly-integrated processors for such applications, and we are confident that our value adding Computer-on-Module approach will open new markets for such edge-server-grade, AI-driven, high-throughput technology. We will make TI processors available on our credit-card-sized SMARC Computer-on-Module ecosystem with all the added values. These include fast prototyping and application development, cost-effective carrier board designs, and ultra-reliable, responsive and performant resources from design-in to series production of OEM systems."