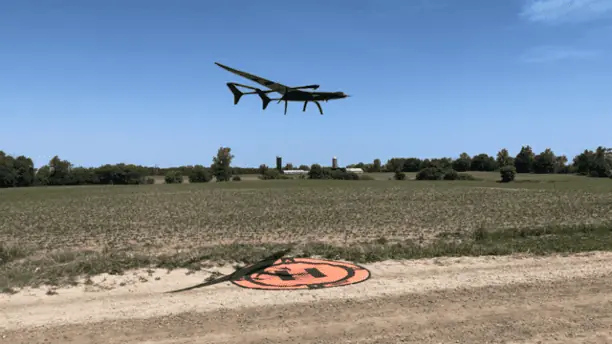 Australian drone manufacturer and solutions provider Carbonix has completed its first commercial flights in the US alongside Drone Data Management Platform provider Aerial Vantage.
With missions taking place every fortnight, the ongoing campaign aims to extract insight through advanced drone capabilities and advanced AI data processing.
The initial missions are a component of a larger aerial remote sensing project with the Michigan Department of Agriculture and Rural Development (MDARD). The MDARD project is aimed at enhancing farming technologies, promoting sustainability, improving water and nutrient management and advancing crop yield forecasting.
The missions are also the first of Carbonix's recently announced operating partnership with New Hampshire based ArgenTech Solutions.
ArgenTech will pilot the missions using the Volanti, Carbonix's all electric fixed-wing unmanned aerial vehicle (UAV). Data gathered will then be delivered to Aerial Vantage's Drone Data Management Platform, Accelerate. Accelerate is an AI and machine learning powered processing and analytics platform that combines drone imagery with satellite imagery and other data to predict crop yields, quality and pricing for commodities markets.
The combination of advanced drone capabilities such as beyond visual line of sight (BVLoS) enabled remote operations, and advanced AI technology will drive cost efficiencies in the data acquisition and processing value chain, significantly reducing the cost of management and yield per acre.
Philip van der Burg, Carbonix CEO, said: "Michigan is one of the largest states in the US with large areas to be covered allowing BVLoS capabilities to be utilized to their full potential. This will drive significant operating efficiencies and cost reductions when it comes to large scale agricultural scanning projects such as these for the MDARD. Being able to participate in these real world missions signifies the opportunities that lie ahead as drone capabilities advance and continue to revolutionise industries, redefine aerial operations, and empower businesses worldwide. Together, we are pioneering the future of autonomous flight, propelling innovation, and shaping a world where drones are the catalysts of progress."
Michael Dalley, Aerial Vantage CEO, commented: "We are thrilled to be part of this ground-breaking endeavour. The successful completion of these missions is just the beginning of an ambitious and highly scalable campaign. By leveraging the power of advanced drones and cutting-edge AI technology, we are revolutionizing the way aerial operations are conducted."
He added: "Our partnership with Carbonix is not only about pushing the boundaries of long-range unmanned flight, but also about creating real-world solutions for various industries. Through our collaboration with the Michigan Department of Agriculture and Rural Development, we are at the forefront of enhancing farming technologies, promoting sustainability, and improving crop yield forecasting."
Find suppliers & manufacturers of Drones & UAS for Agriculture >>