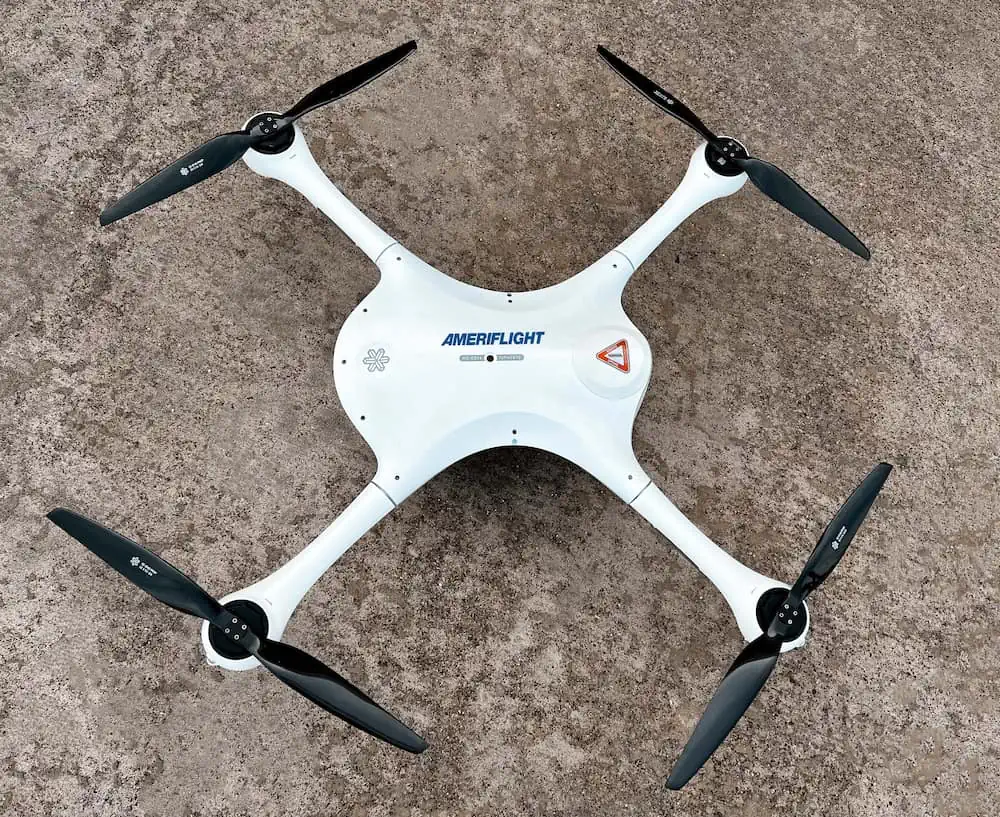 Ameriflight has received approval from the Federal Aviation Administration (FAA) to operate drone aircraft, making Ameriflight the first existing Part 135 Cargo airline to receive such exemption.
The newly granted exemption allows Ameriflight to conduct UAS operations under its current Part 119 Air Carrier Certificate for Part 135 operations. The company also has approval to add the Matternet M2 to its fleet, enabling the launch of the first fully operational, large-scale drone operation in the United States.
Through its partnership with Matternet, an urban drone delivery system developer, Ameriflight intends to operate the Matternet M2 drone for commercial delivery in dense urban and suburban environments across the country.
Medical samples and small batch pharmaceuticals will be the initial cargo for the M2, offering a fix to the often slow and unpredictable delivery times of ground transportation methods, resulting in increased reliability. In addition to healthcare, Matternet is expanding into e-commerce, where drone delivery can enable ultra-fast delivery of small packages.
Ameriflight will deploy the M2 fleet of drones using Matternet's software platform from a central remote Network Operations Center, allowing the company to safely expand its network, while maintaining the highest level of pilot operator supervision and flexibility.
Ameriflight intends to operate its uncrewed aircraft as a supplement to its crewed operations, not replacing the current flying operation, aircraft, or pilots.
"Adding this state-of-the-art, environmentally friendly aircraft and launching our UAS division allows us to expand our service offerings to off-airport alternative sites for time-sensitive small package needs," said Ameriflight President and CEO Alan Rusinowitz. "Matternet's technology is at the forefront of autonomous innovation and provides a revolutionary solution for customers. We're looking forward to launching our first M2 flights very soon, and, as we move forward into future flight, developing additional areas of drone delivery."
"The approval to add drones to our operation positions Ameriflight, once again, at the forefront of innovation in the aviation industry. Moving forward with the future of our newly operative UAS division allows us to expand into a largely untapped delivery market with a lot of room for speed and safety logistic improvements," said Ameriflight Owner and Chairman Jim Martell. "After having accomplished this unprecedented milestone, we are more than excited to continue our partnership with Matternet, a best-in-class developer of cutting-edge drone delivery technology."
"We are thrilled to enable the nationwide deployment of our drone delivery system and to have Ameriflight, a leading cargo airline with a strong track record of reliability, safety, and performance, at our side," said Andreas Raptopoulos, Co-Founder and CEO of Matternet. "This partnership enables us to offer our customers turnkey access to fast and reliable on-demand delivery capabilities today. This is not a test program or a future deployment concept – this is the real, scalable, and safe drone-based solution that customers are looking for."
Find cargo drone manufacturers and suppliers of delivery UAVs>>