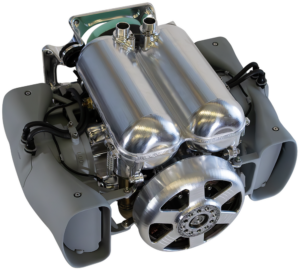 Northwest UAV's newest heavy-fuel UAV engine, the NW-230, has received Export Administration Regulations (EAR) 99 export approval, expanding market reach on a global scale. 
Export Administration Regulations, administered by the Commerce Department's Bureau of Industry and Security, control most US exports of products considered strategically significant. The NW-230 is the next commercially available EAR-99 approved propulsion system in Northwest UAV's family of engines which also includes the NW-44 and NW-88, meaning it will not require an export license in most situations.
The NW-230 EFI HF engine is designed for 90-160 kg unmanned aircraft. It is purpose-built to operate on heavy fuel (JP5/JP8/TS-1/Jet A), which results in higher efficiencies vs. converting or utilizing gas engine components to run on heavy fuel. Additionally, the NW-230 uses combat-proven sub-system components derived from the NW-44 and NW-88 that are in operation (TRL9) on several airframes worldwide. The company believes the NW-230 is an excellent choice for companies looking for an Aviation Grade, turn-key, cost-effective solution for their aircraft.