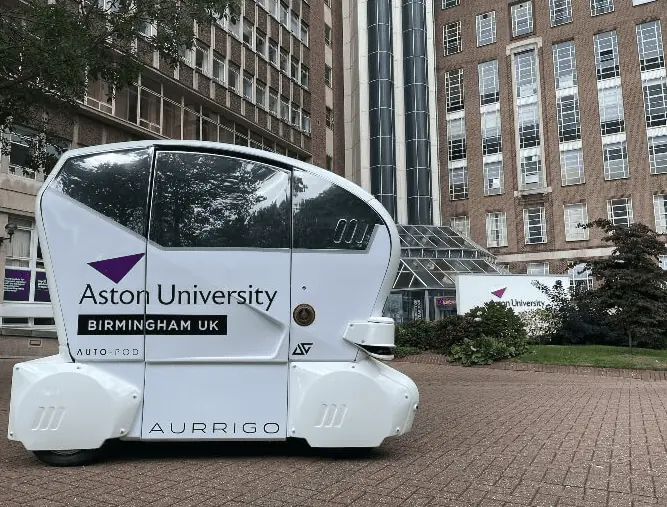 Aston University has completed a two-year Knowledge Transfer Partnership (KTP) with Coventry-based global transport technology firm Aurrigo, resulting in a sophisticated machine vision solution making its autonomous vehicles more capable.
A KTP is a UK-wide program that helps businesses to improve their competitiveness and productivity through the better use of knowledge, technology and skills. This project has led to Aurrigo's driverless vehicles being able to see and recognize objects in greater detail, resulting in improved performance across a wider spectrum of operational domains. Previously the company's driverless vehicles were only capable of detecting that there was an object in their path and not the type of object.
The project team leveraged computer vision systems, coupled with machine learning and artificial intelligence, to differentiate between objects of interest. The new technology has been applied to the company's airport Auto-Dolly, which is now able to differentiate between many different objects airside, improving its operational performance.
This project has built on the success of Aurrigo's passenger and airport transport solutions and has been awarded the highest grade of 'Outstanding' by the Innovate UK KTP Grading Panel.
The Aston University team was led by Dr George Vogiatzis, senior lecturer in computer science, who has extensive research in the subjects of machine vision, machine learning and artificial intelligence, including deep-learning neural networks and deep-learning methodologies for indexing large video and image collections.
He was joined by Dr Luis Manso, lecturer in computer science, whose research interests include active perception, social and assistive robotics, ambient intelligence, robotic cognitive architectures, human-robot interaction, and deep geometric learning.
James Heaton, KTP associate for the partnership, deployed computer vision and machine learning systems onto the company's autonomous vehicles. Following the completion of the project, Heaton has been employed by Aurrigo as a machine learning engineer.
"This KTP has been a great way for us to work with a new industrial partner whilst applying our expertise in deep learning and robotics to the exciting field of autonomous vehicles," said Dr George Vogiatzis. "It is very rewarding to see the success of this collaboration."
"KTPs provide resource and academic support to companies with development ideas which otherwise may not be possible," Professor David Keene, CEO of Aurrigo, said. "This partnership has allowed us to produce a system which has resulted in our vehicles becoming smarter and more capable and enabled us to expand our operations, particularly with baggage handling in airports worldwide."
Aurrigo believes learnings of this project will have further applications for vehicles in its larger product range.
Find suppliers & manufacturers of Computer Vision Systems & Technology >>