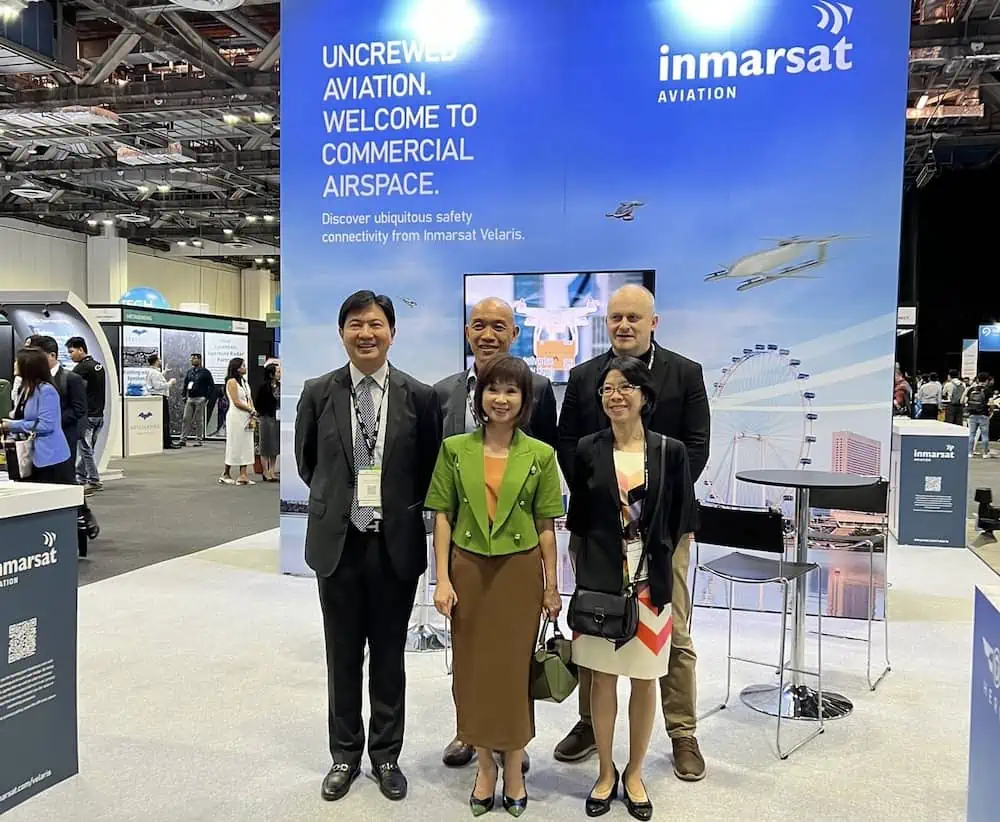 Heron AirBridge has signed a Memorandum of Understanding (MoU) to join Inmarsat's Velaris Partner Network (VPN) in order to collaboratively develop regulatory and operational frameworks and technologies for the safe management of drones in urban environments and complex airspaces. 
With strong support from the Singaporean government, Heron AirBridge is the first Unmanned aircraft system Traffic Management (UTM) technology company in Southeast Asia to successfully build a UTM system capable of managing multiple drone operators.
Since its inception in 2022, the drone technology developer has actively sought collaborations with industry leaders to support Advanced Air Mobility (AAM) deployment in the region. The company believes the Velaris Partner Network — an initiative to encourage cooperation using Inmarsat's Velaris connectivity solution for unmanned aircraft — presents an excellent opportunity to help shape the operational landscape for commercial UAVs globally.
The new partnership will enable Heron AirBridge and Inmarsat to combine their unique capabilities and showcase how satellite-based technology can support the safe integration of unmanned aircraft into Singapore's commercial airspace.
As part of the MoU, Inmarsat will provide Heron AirBridge with its low Size, Weight, Power and Cost (SWaP-C) terminals to deliver the secure datalink needed for BVLOS drone operations. This signifies the first application of Velaris technology in the Asia Pacific region.
Moreover, in collaboration with the aviation community, the two companies intend to co-develop operational standards, frameworks and technologies that will boost the UAV numbers in Singapore's airspace and serve as a blueprint for future global roll-out.
"Our partnership with Inmarsat is a major step towards increasing UAV integration into the city's crowded airspace and updating regulations so that our efforts can be replicated worldwide," said Ryan Lee, CEO and co-founder of Heron AirBridge. "Working together, we look to establish Singapore as a world leader in this burgeoning sector, sharing our vision of creating value through the utilization of low-level airspace globally. Inmarsat was a vital partner in powering the movement with Velaris by ensuring that we are equipped with the core network and datalink capabilities we need to drive UAV integration."
"Uncrewed aviation is a sector poised for growth," said Joel Klooster, senior vice president of aircraft operations and safety at Inmarsat. "The air vehicles and communications technology are ready, but unlocking their potential hinges on consistent, global regulatory progress. Together with Heron, we are creating a blueprint for the integrated airspace of the future. Leveraging Inmarsat's Velaris technology, coupled with Heron's regional domain expertise, will ensure operators of airspace and UAVs have the tools needed to drive regulatory acceptance in the region and beyond."