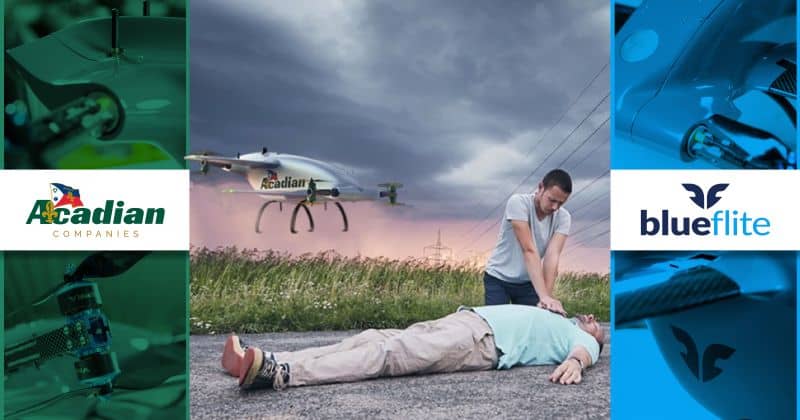 Acadian Ambulance, one of the largest privately held medical transport companies in the USA, has announced at CES the selection of Blueflite's drone and digital platform to develop a first-of-its-kind, drone-based emergency response solution for lifesaving medical deliveries in America.
The platform is a joint development and will provide much faster delivery of medical equipment and medicines than possible using conventional transport.
The companies will jointly develop the technology solution for medical emergency deliveries, based on Blueflite's advanced logistics drone platform, with R&D support from Lafayette-based survey and engineering firm, Fenstermaker. This groundbreaking partnership will provide fast emergency response by delivering critical equipment to medical emergency sites thus reducing the impact of medical emergencies.
"Using drones to deliver critical medical equipment will shorten emergency response times considerably. And when every second counts, that can save lives and reduce cost in healthcare," said Frank Noppel, Blueflite's CEO. "We are very excited to have been selected by Acadian and very much look forward to co-developing this platform, which will greatly benefit the lives of many."
"We selected the Blueflite platform for its advanced technology and capability to deliver lifesaving medical supplies safely and efficiently to those in need. This is the next step in the future of medical response, and we are excited to further develop it in conjunction with Blueflite and Fenstermaker," said Benjamin Swig, Director of Healthcare Innovation and Strategy at Acadian Ambulance.
"We've been on the cutting edge with drone technology since it was first introduced to the market," commented Charles Fenstermaker, President of Fenstermaker. "Having been in operation for over seventy years, we have the data, technology, professional network, and regional knowledge required to conduct, in conjunction with Acadian Ambulance and Blueflite, a full-scale R&D effort to ensure the success of this venture."