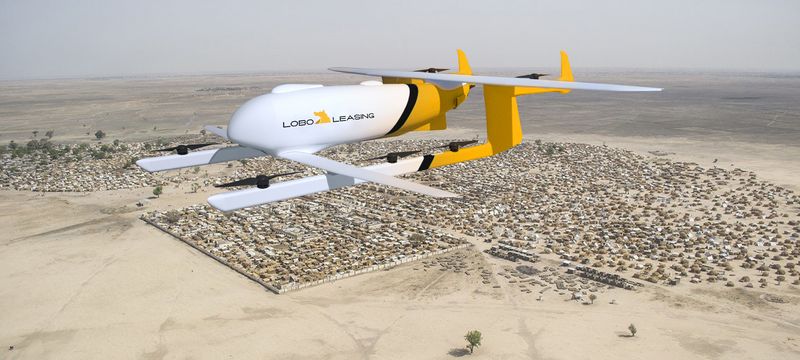 Lobo Leasing and Air Taurus Limited, an affiliate of humanitarian logistics specialist AYR Logistics Limited (AYR), have entered into a letter of intent to lease five Pipistrel Nuuva V300 hybrid VTOL cargo UAVs (unmanned aerial vehicles). The companies will cooperate in developing a leasing model for the new asset class.
Lobo Leasing entered an LOI with Pipistrel for 15 Nuuva V300 aircraft earlier this year. These are the first five of these 15 aircraft to be committed to a lease customer. The LOI is aligned with the Nuuva V300 development program and targets delivery of the first units to Air Taurus between 2025 and 2026.
Air Taurus will deploy the Nuuva V300 aircraft in AYR's global humanitarian operations. The aircraft will represent a revolution in the ability to move critically needed cargo (including food and medical supplies) across areas with limited or degraded ground infrastructure. The Nuuva V300 is being designed as a sustainably powered cargo solution using a hybrid propulsion system including electric motors for vertical lift and a fuel efficient FADEC IC power plant for cruise flight. The NUUVA V300, currently under development, is planned to have a cruise speed of approximately 120 knots with a cargo capacity of up to 300kg and maximum range of 300km with reserves.
Gustavo Semeraro, Senior Vice President, Business Development at Lobo Leasing, commented: "We are proud to continue at the forefront of this fast-developing market by bringing a pioneering partnership to develop a financial solution to support AYR's crucial humanitarian work. AYR is a respected and experienced operator, and we greatly appreciate the opportunity to work with them on finalising this letter of intent. The V300 has the potential to transform the humanitarian aviation sector by bringing an entirely new approach to the delivery of long-standing operational requirements."
Stephen Lyons, Chief Development Officer at AYR, stated: "This marks an important step forward in our plans to introduce unmanned aircraft to the humanitarian sector. We are grateful to Lobo Leasing for their support and the shared vision we have for the humanitarian application of unmanned aircraft."
Find suppliers & manufacturers of Cargo Drones & Delivery UAS >>