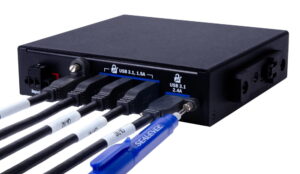 Sealevel Systems has released three new high-retention USB 3.0 cables featuring the company's SeaLATCH locking connectors. Designed for shock and vibration tolerance, and to support an increasing number of USB 3.0 devices, the locking connectors ensure reliable, consistent performance in any application or environment.
In recent years, RS-232 ports have largely been displaced from computers as USB ports emerge as the preferred serial interface for industrial environments. Data rate speed and durability are the two primary factors influencing this migration. With the introduction of USB 3.2 in 2017, data rates that are up to 100,000 faster than RS-232 have been achieved. Additionally, the small pins on traditional serial ports can be easily bent, minimizing their reliable operation in extreme environments where shock, vibration, and other physical disturbances are present. However, one of the primary features of USB can also be its downfall: the USB mechanical connector was intentionally designed to be quickly connected and disconnected. As a result, accidental cable disconnection is a common failure for industrial USB devices.
Sealevel's patent-pending SeaLATCH locking USB connectors feature a thumbscrew that provides a secure, metal-to-metal connection to avoid interrupted operations for critical communications. SeaLATCH locking USB ports are integrated into a wide range of Sealevel products, including:
SuperSpeed USB 3.1 Hubs
USB 2.0 Hubs
SeaI/O USB Expansion and Data Acquisition Devices
SeaDAC Lite USB Digital I/O Modules
SeaLINK USB Serial Adapters
Embedded Computers
The three new cable types include:
The CA746 – secures both ends of the cable to devices with SeaLATCH locking USB connectors, offering complete protection against accidental cable disconnection.
The CA747 – provides a secure connection between legacy USB products with a standard Type B port and Sealevel products that feature the SeaLATCH USB 3.0 Type A Port, including the Rugged SuperSpeed 4-Port and 7-Port USB 3.1 Hubs.
The CA748 – features a SeaLATCH locking USB 3.0 Type B and a standard USB 3.0 Type A connector.
Earle Foster, Sr VP of Sales for Sealevel, commented: "We're excited about the increasing applications that benefit from locking connectors. Originally, this was a driver primarily for our military and aerospace customers but now we are seeing drone and UAV use increase across industries – and the inherent vibration makes a solution like SeaLATCH highly desirable."