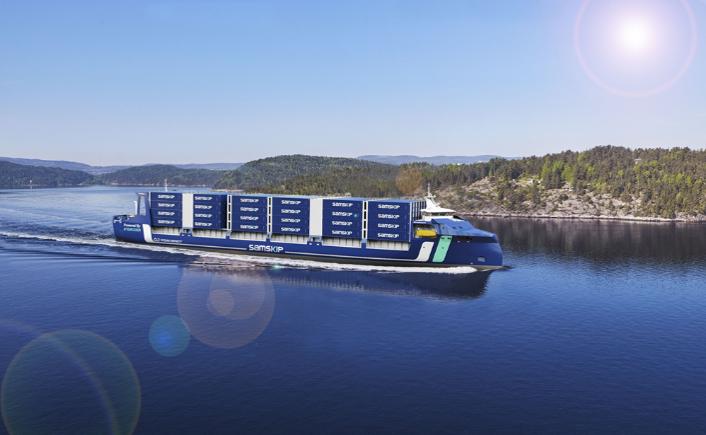 Ocean Infinity has announced the development of zero-emission, remotely-operated and autonomous-ready, short sea container vessels that will operate between Norway and the Netherlands, creating one of Europe's first zero-emission maritime 'green corridors'.
In pursuit of its objective of transforming maritime operations through the deployment of innovative technologies, Ocean Infinity partnered with Samskip B.V, a global logistics company and one of Europe's largest transport companies, to build 2 new 'SeaShuttle' container vessels, developing and integrating hydrogen fuel cell power systems, delivering up to 3.2Mw of power.
Partial funding of €15 million towards the SeaShuttle program will be provided by Enova, which focuses on contributing to the reduction of greenhouse gas emissions and is owned by the Norwegian Ministry of Climate and Environment.
Building on the COP26 Clydebank Declaration commitment to establishing a global network of green corridors by 2025, this announcement signals the beginning of a collaboration between Samskip B.V. and Ocean Infinity to deliver zero-emission, efficient and safe, multi-modal logistics across a global maritime network.
"Ocean Infinity's enabling technologies can facilitate green corridors but also the broader decarbonization and transformation of maritime operations. The emphasis today is on the SeaShuttle vessels, which are just part of Ocean Infinity's overall strategy of unlocking innovation to deliver truly sustainable maritime operations," said Christoffer Jorgenvag, Ocean Infinity CCO. "We would like to thank Enova for their support for our vision which represents a firm endorsement of our ground-breaking approach and allows us to proceed at full speed in bringing this project to life."
Find suppliers & manufacturers of Uncrewed Marine Vessels >>