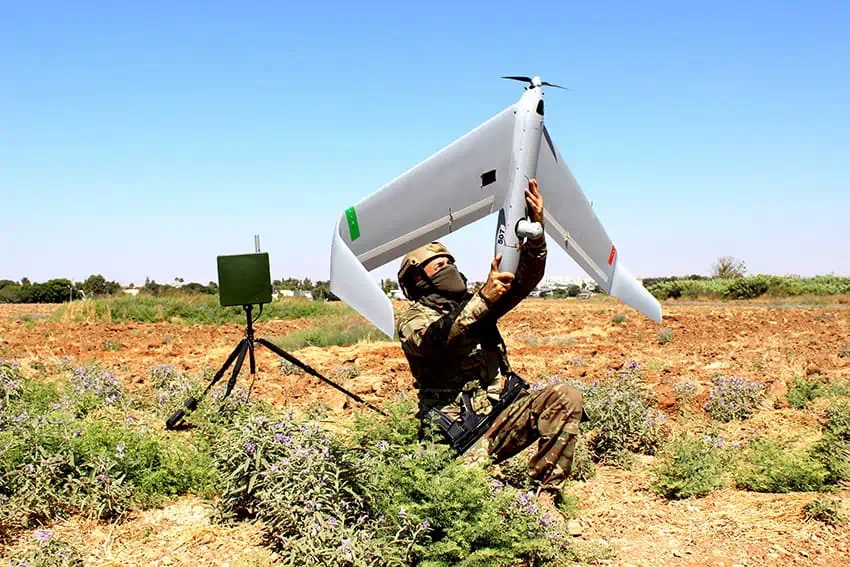 Unmanned systems developer Blaze has confirmed that it will unveil its new Spider VTOL electric fixed-wing UAV (unmanned aerial vehicle) at the 2022 at the Farnborough International Airshow.
Unlike traditional fixed-wing VTOL UAVs that have dedicated motors, propellers and structural parts for performing takeoff and landing, the Spider VTOL utilizes a single nose-mounted electrical motor and propeller for both vertical takeoff and landing as well as for horizontal flight. These capabilities enable the Spider VTOL to uniquely perform point takeoffs and landings in space-constrained areas, such as a forest clearing or a small ship, and to operate in harsh wind and weather conditions without compromising performance.
Lightweight and highly transportable, the Spider VTOL's full operational cycle, from deployment, through launch and mission execution, to recovery and packing, can be performed by a single operator. Its innovative flying wing design and belly-mounted payload configuration contribute to its high performance, assuring high operational availability of up to 3 hours, high survivability, and fast redeployment time. The Spider VTOL can be equipped with various advanced payloads, providing covert real-time day/night intelligence for open-area and urban scenarios such as military, law enforcement, low-intensity conflict, security, peacekeeping, search and rescue missions, disaster management and civil applications.
Itai Toren, CEO of Blaze, commented: "Ideal for covert, enhanced performance, over-the-hill ISR missions for tactical forces, border security, strategic infrastructure protection and maritime operation, the easily deployable Spider VTOL can be operated by a single operator, vertically takeoff and land on any terrain using its innovative single motor, single prop takeoff and landing mechanism, enabling it to be launched from a small boat or an armored fighting vehicle (AFV), and operate in harsh environments and GPS denied zones. It is a groundbreaking tool that enhances forces' situational awareness and tactical terrain dominance, and we are excited to present it for the first time at the Farnborough International Airshow."