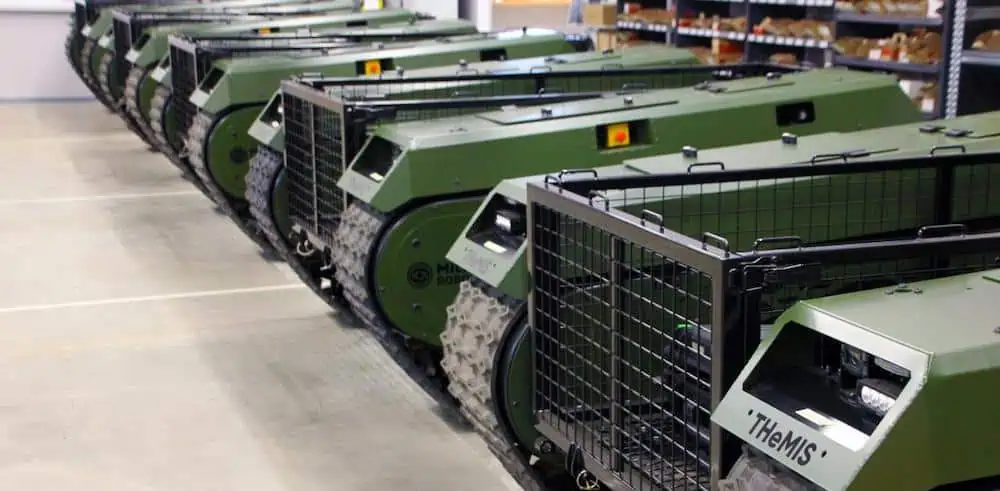 Milrem Robotics is showcasing a total of eight differently configured THeMIS Unmanned Ground Vehicles (UGV) at this year's Eurosatory exhibition in Paris, 13-17 June.
Of the eight intelligent robotic systems, two will be exhibited at Milrem Robotics' stand, one at the live demonstration and five in the stands of various partners.
The show will feature five THeMIS Combat UGVs integrated with weapon stations by manufacturers such as KONGSBERG, Hornet, Nexter, EOS and FN Herstal. The company is also exhibiting its autonomous THeMIS Observe UGV intended for Intelligence, Surveillance and Reconnaissance (ISR) missions that is also integrated into Milrem Robotics' Command and Control (C2) system. One of the UGVs features an electro-optical targeting system and is displayed on the stand of Krauss-Maffei Wegmann, and another is the Route Clearance UGV on CNIM's stand.
"The THeMIS is the world's most fielded autonomous UGV in its size class, having been acquired by 13 countries, eight of which are NATO members. THeMIS has experience from hot Mali to arctic Norway to some jungle regions with extreme humidity," said Kuldar Väärsi, CEO of Milrem Robotics. "Having eight vehicles at Europe's leading defense exhibition with various payloads by world-leading companies illustrates the versatility of the platform and is a huge compliment."
The Type-X Robotic Combat Vehicle that is equipped with KONGSBERG's PROTECTOR RT40 and the Straight Obstacle Blade by Pearson Engineering will also be exhibited during the show. 
Find suppliers & manufacturers of Unmanned Ground Vehicles & Robotics >>