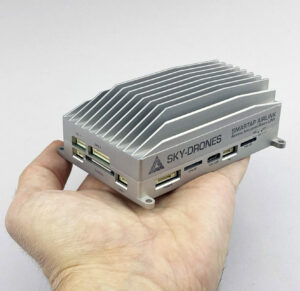 Sky-Drones Technologies has confirmed that its AIRLink AI-powered drone flight controller can now run ArduPilot open-source autopilot software.
AIRLink is an advanced 3-in-1 drone avionics unit that operates as an autopilot for the entire drone fleet, an AI mission computer with the capability of object recognition and target tracking, and an LTE connectivity link to employ 3G/4G/5G. The system was developed after Sky-Drones saw a need in the market to make it easier for enterprise UAV organisations to enter the drone industry and begin their ventures, with a solution that takes the time to market from months or years and months down to weeks.
ArduPilot provides users with a large variety of hardware options, both open and closed. The free-to-use and fully customisable software is an autopilot system supporting many vehicle types including multi-copters, traditional helicopters, fixed wing aircrafts, boats, and more.
Just like Sky-Drones' GCS, ArduPilot's Mission Planner can be used for mission and flight planning, single or multiple drone flights simultaneously, and tracking and recording flight logs for replay and analytics. With this partnership, Sky-Drones AIRLink users can take all the advantages from AIRLink and work using the established software ArduPilot to utilise the best of what both organisations have to offer.