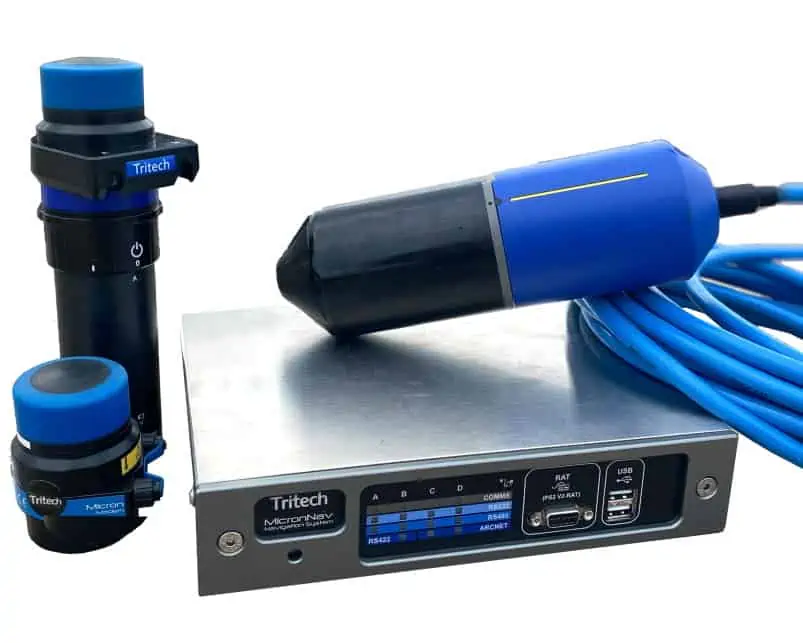 Tritech International has released the MicronNav 200 Ultra-Short Base Line (USBL) tracking system, designed for small UUVs (unmanned underwater vehicles) and AUVs (autonomous underwater vehicles). The new product provides a number of new features, including data transfer interleaved with USBL positioning, software integration into Google Maps, improved magnetic compass accuracy by one degree, and compatibility with the new Micron Battery Modem.
The MicronNav 200 uses spread spectrum acoustic technology, which provides a robust method for communication between the dunking transducers and the vehicle modem. The USBL transducer can provide 180-degree hemispherical coverage below the transducer, allowing vehicle tracking in very shallow water. Omni-directional coverage is provided by the Micron Modem and Micron Battery Modem.
Both the USBL transducer and the Micron Modem/Battery Modem can be switched from positioning mode to data transfer mode, allowing the same hardware to be used to establish an underwater acoustic communications link. The MicronNav 200 also features a more robust casing compared to its predecessor, as well as a smaller, more accurate USBL head that is easy to calibrate and deploy.
David Bradley, Managing Director at Tritech, commented: "At Tritech, we continue to improve the products we supply to the market, and the MicronNav 200 is part of that plan. The product provides more accuracy in terms of navigation, based on USBL techniques and the design provides a much more robust solution for our customers."
Paul McMaster, a Principal Engineer responsible for the MicronNav 200 project at Tritech, stated: "MicronNav 200 builds on the proven MicronNav 100 system with improvements throughout. We've spent many days putting the system through its paces out on the lake, and each time, we came back to the factory and made something a little bit better. The end result is a system which is easier to use and offers useful new features like Google Maps integration and the ability to seamlessly interleave data transfer with USBL positioning."
Find manufacturers of Underwater Positioning & Navigation Technology for unmanned systems >>