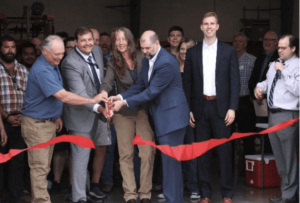 Top researchers, policymakers, and other professionals in the unmanned systems sector joined Northwest UAV in celebrating the addition of their new Hydrogen Fuel Cell Manufacturing Center to their campus in McMinnville, Oregon.
The NWUAV campus is a unique UAV tech and manufacturing hub which features UAV engineering, machining, wiring, engine manufacturing, testing, and now UAV hydrogen fuel cell manufacturing.
The opening ceremony featured a variety of speakers, each with a unique perspective on the implications of the hydrogen fuel cell technology and the manufacturing center.
A technology developed in cooperation with the U.S. Naval Research Laboratory, Ben Gould of the U.S. Naval Research Laboratory's Alternative Energy Section, Chemistry Division, explained what it meant for him to see this hydrogen fuel cell actually go from the bench to industry and manufacturing.
"It's something we dream about every night. I want to see my technology actually go help someone, help the warfighter and save lives," explained Gould. "We're doing that here … It needs to happen more. And one of the stories that needs to be told is that it's important for us in government to work more with industry." Gould went on to explain that the concept for this hydrogen fuel cell technology also took 15 years, and he was thrilled when Northwest UAV offered to make the idea into a real manufacturable technology.
Northwest UAV will have a PEM hydrogen fuel cell prototype for viewing at Booth #2341 at the AUVSI XPONENTIAL show in August.