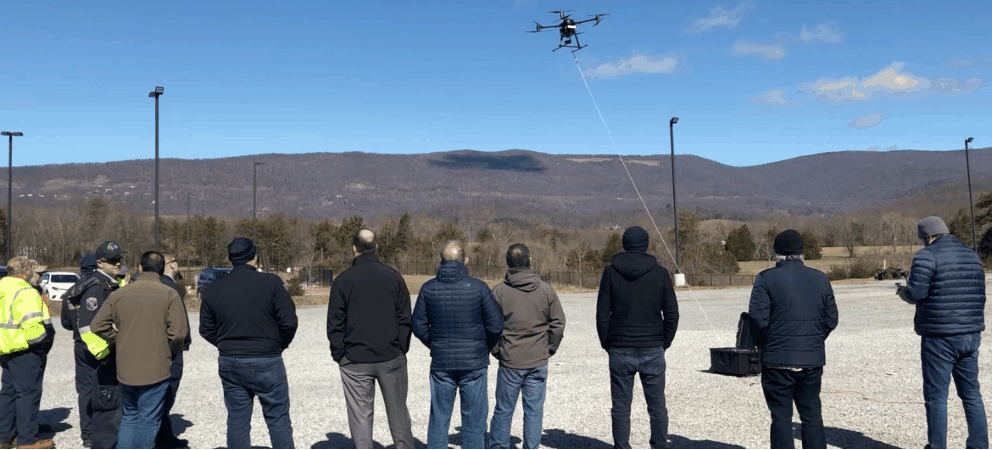 DroneShield and Zenith AeroTech have partnered to develop a series of new counter-drone solutions, which combine Zenith's heavy-lift tethered drones known as TAVs (tethered aerial vehicles) with DroneShield's DroneSentry-C2 command-and-control ecosystem and a miniaturised radar in order to protect against rogue drone and drone swarm threats.
Zenith AeroTech provides three different TAV platforms: Hexa, Quad 8, and Quadro. In contrast to untethered drones, these systems can stay aloft for hours or even days, due to Zenith's Ground Power-Tether Management System, which converts 120- or 240-volt AC power from a generator (or another source) into high-voltage DC, powering both platform and payload. The platforms themselves can carry 5 to 15kgs of payload. Zenith AeroTech will also be offering DroneShield's soft kill counterdrone measures, to be used by personnel on the ground.
Potential applications for counter-drone TAVs include protection of forward operating military bases, and security for sensitive facilities and public events.
Kutlay Kaya, CEO of Zenith Aerotech, commented: "By putting a detection capability on a TAV, which typically flies at 400 feet, you get better range than if you were to have these systems on a pole or ground vehicle. Also, your alerts will be more accurate because, at elevation, you've eliminated clutter. Because we detect inbound drones from further away, we give personnel on the ground more time to jam them"
"We are already working with a couple of federal agencies, and we anticipate broader adoption of this solution."
Oleg Vornik, CEO of DroneShield, said: "DroneShield's deployment with Zenith takes our cutting edge command-and-control ecosystem capabilities into the tethered drone domain, opening a new range of applications for our Government end-users."
Find manufacturers of Tethered Drones & Counter Drone Solutions >>