Kappa Optronics, a leading developer of rugged aviation- and military-grade cameras for drones and UAVs (unmanned aerial vehicles), has partnered with Unmanned Systems Technology ("UST") to demonstrate their expertise in this field. The 'Silver' profile highlights how their high-resolution imaging solutions can be used for VTOL, fixed-wing and hybrid platforms at all ranges, including tactical UAS as well as HALE (High Altitude Long Endurance) and MALE (Medium Altitude Long Endurance) aircraft.

Kappa's advanced Flight Eye UAV cameras provide Full HD performance with built-in Ethernet or GigE capability and H.264 compression. The aviation-qualified, SWaP-C (size, weight, power and cost)-optimized designs are easily installed into a variety of unmanned aircraft platforms, and can be integrated into gimbals and payloads or mounted externally onto the UAV.
Flight Eye cameras are ITAR-free, allowing easy export for OEMs and systems integrators of UAVs.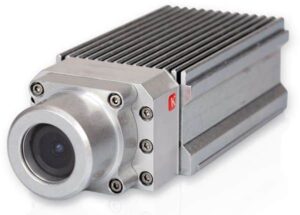 The FE320 is an all-in-one camera kit for UAVs that features a modular design with easily swappable components. The kit consists of an electronics unit and a camera sensor unit, which can be either directly connected or supplied with a cable up to 10m long for remote mounting. An optional heater for de-icing is also available.
The system utilises a high-resolution Sony IMX252 CMOS global shutter sensor providing up to 1080p Full HD resolution, with an adjustable frame rate from 5 to 200 fps. It can output two independent Ethernet streams for separate applications such as telemetry and onboard recording, with adjustable bandwidths from 100 kB/s to 16 MB/s.
The rugged FE 320 is IP67-rated for operation in the harshest of environments, and is designed to MIL-STD-810F and DO-160G standards to withstand a variety of conditions.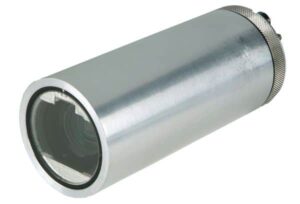 The FE 350 is a high-definition UAV camera based around the ON Semiconductor KAI02150 2/3″ global shutter CCD sensor. It is available with a variety of lenses for different fields of view, and can be supplied in an optional monochrome version for enhanced low-light operation.
The camera delivers Full HD resolution, with built-in H.264 compression and dual GigE video streams with adjustable bandwidth for separate applications such as telemetry and onboard recording. It also features an adjustable frame rate from 1-30 fps.
The rugged FE 350 has been designed with an integrated de-icing system and also offers full protection against fogging and lightning. The IP67-rated unit can withstand a variety of challenging environmental conditions, and is compliant to DO-160 standards for altitude, temperature, relative humidity, and shock and vibration.
To find out more about Kappa Optronics and their camera and imaging solutions for UAVs, please visit their profile page:
https://www.unmannedsystemstechnology.com/company/kappa-optronics/