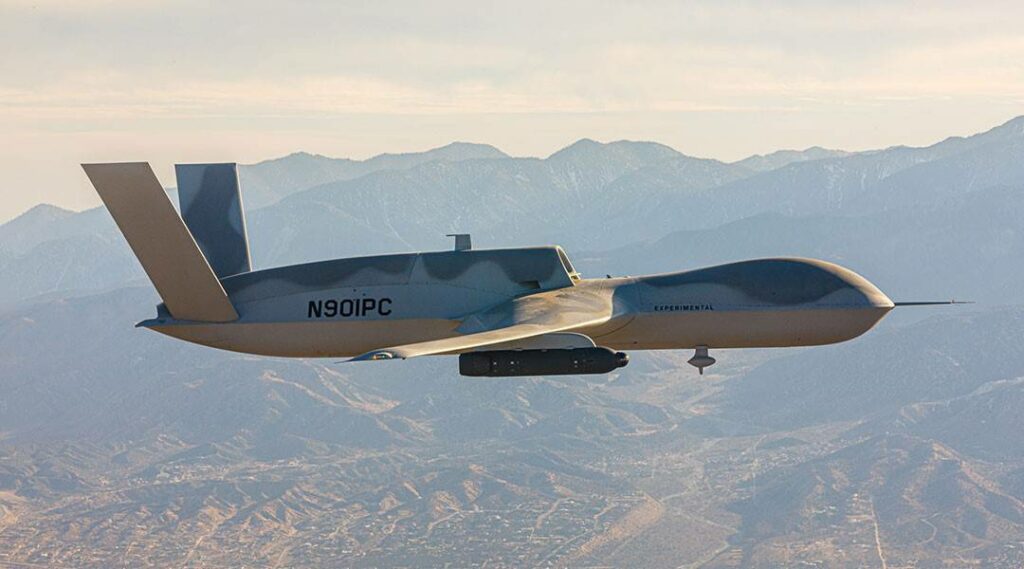 General Atomics Aeronautical Systems, Inc. (GA-ASI) has performed a flight test during which its Avenger unmanned aerial system (UAS) was equipped with a Lockheed Martin Legion Pod. The integration, which took less than three months from concept to flight, was performed in order to give the unmanned aircraft enhanced autonomous sensing capabilities. The 90-minute captive-carry flight test verified mechanical interfaces and aerodynamics safety of flight for the UAV.
Legion Pod is a multi-function sensor system that supports collaborative targeting operations in radar-denied environments. Its base configuration includes an IRST21 (infrared search and track) sensor and advanced processor, providing passive, high-fidelity detection and tracking of air-to-air targets.
Additional test flights with the Legion Pod-equipped Avenger have been scheduled for the near future.
J.R. Reid, Vice President of Strategic Development at GA-ASI, commented: "Our flight demonstration revealed the quick reaction capabilities of the Avenger RPA. From software and hardware architecture implementation to sensor integration, the Avenger is a great platform for delivering critical capabilities."
Kenen Nelson, director of Fixed Wing Sensor Programs at Lockheed Martin's Missiles and Fire Control division, said: "The successful integration of Legion Pod on the Avenger RPA is a testament to the flexibility of the Legion Pod system from a fighter aircraft to an unmanned aircraft, which means Legion Pod has proven its capabilities can assist our warfighter and keep them ahead of threats. We are excited to see how our IRST21 systems will be integrated on other unmanned platforms."