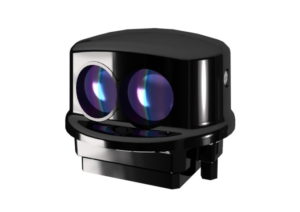 LightWare has launched a new professional-grade microLiDAR sensor designed for use with drones, UGVs (unmanned ground vehicles) and other autonomous systems. The SF45 is a highly versatile sensor with a 320-degree field of view and a scanning range of 50m in bright sunlight.
The SF45 has been designed to provide enhanced 3D depth perception for autonomous vehicles, enabling safer, more accurate operations and facilitating a wide range of applications such as drone altitude measurement, obstacle detection, sense and avoid, and SLAM (simultaneous localization and mapping). The flexible sensor can be mounted either on the top of the side of a vehicle, and weighs just 48.3 grams with measurements of 40 x 40 x 35mm, making it ideal for SWaP (size, weight and power)-conscious designs.
The high-accuracy, high-precision microLiDAR is unaffected by poor weather conditions and dense vegetation, due to multiple return signals. Because the SF45 captures 3D objects rather than images, there are no concerns around privacy.
The sensor has been nominated for an AUVSI (Association for Unmanned Vehicle Systems) Award, in the Hardware – Component category. The awards recognize companies that have made strides in advancing autonomy and promoting the safe adoption of unmanned systems. LightWare also previously set new records in the LiDAR sensor industry with its SF000, the smallest microLiDAR in the world at 8.8g and less than an inch in length.
Philip Constantine, EVP at LightWare, commented: "The reality is that machines 'see' the world as a series of code, rather than as a representation of 3D objects. This is why there are so many UGV/UAV/Robot accidents. Think of it this way: you may know the layout of your lounge by heart, but walk through it in the dark, and you may well be ambushed by an unexpected piece of furniture that has been moved. In the same way, machines are typically unable to make sense of unexpected features, because they lack 3D depth perception."
The launch webinar for the new SF45 microLiDAR will take place on September 10th – click here to register.
LightWare is also celebrating the launch of the SF45 with a competition that highlights the importance of providing machines with "sight". Entrants are invited to submit footage of their most spectacular UAV and UGV crashes and malfunctions, and the winning entrant will be awarded an SF45 sensor. Philip Constantine remarked: "The goal is to remind everyone that crashes do happen – but, with the use of this highly effective sensor, they need not."
Find suppliers and manufacturers of LiDAR Sensors & Scanners for Drones & UAVs >>