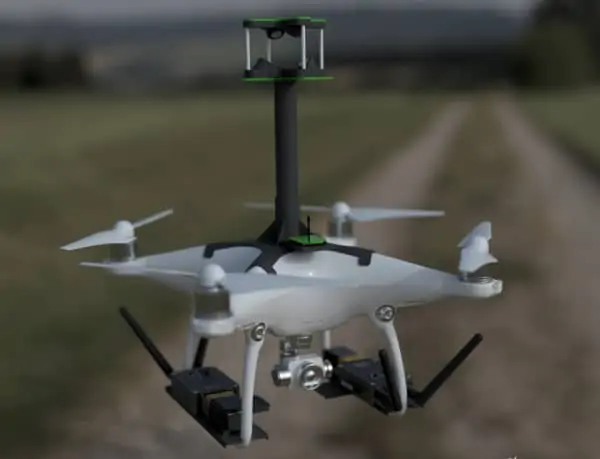 Anemoment has released a set of case studies showing how UAV (unmanned aerial vehicle) manufacturers and researchers have used the company's ultrasonic weather sensors to aid in drone-based atmospheric research and meteorological studies.
Download the case studies from Anemoment's website
Anemoment's TriSonica Mini Wind & Weather Sensor is the world's smallest and lightest 3D ultrasonic anemometer, providing high accuracy wind speed, direction, temperature, humidity, pressure, tilt, and compass data. It has been selected as part of an optimal sensor package for atmospheric research and meteorological studies by a number of companies.
Ten Tech LLC has integrated the TriSonica Mini into its new Huracán Multi-Purpose Aerial Drone (MPAD), a quadcopter flight demonstrator platform designed for sensor testing, environmental data acquisition, communication and processing. The TriSonica was selected for its low size and weight, as well as its ability to withstand harsh shock and vibration to MIL-STD-810 standards.
AEgis Technology Group is gathering detailed profiles of temperature, moisture, and winds within the atmospheric boundary layer (ABL), which are beyond the reach of traditional methods of numerical weather modelling that involve installing sensors on a tower. AEgis has developed a special sensor package, designed to be mounted on a multirotor UAV, that will gather essential atmospheric measurements. The low-SWaP (size, weight and power) TriSonica Mini is one of the sensors integrated into this payload.
Sparv Embedded is helping Linköping University in Sweden to develop an integrated UAV solution for measuring methane, a gas with
a greenhouse effect 84 times stronger than carbon dioxide. The quadcopter will carry a Sparvio sensor system that synchronizes data from an Aeris Technologies methane sensor with readings from a TriSonica Mini ultrasonic wind sensor, GPS and other sensors. The combination of all this data will be used to calculate not only the location of methane emission sources, but also the quantity of gas flow.
To find out more about the use of Anemoment's TriSonica Mini for drone-based atmospheric and meteorological research, read the case studies on Anemoment's website.