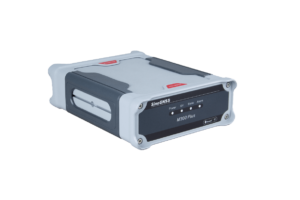 ComNav Technology has released its new M300 Plus GNSS receiver, designed to provide a more economic alternative to the company's M300 Pro for CORS (Continuously Operating Reference Station) networks as well as land and marine platforms such as UGVs (unmanned ground vehicles) and USVs (unmanned surface vehicles).
Featuring ComNav's next-generation GNSS engine, the future-proof M300 Plus can track all current and future constellations (GPS, GLONASS, Beidou, Galileo) with 574 channels. With powerful adaptive detection and cancelling technology for enhanced anti-jamming capabilities, the unit maintains high reliability even under adverse conditions.
The M300 Plus' powerful built-in webserver provides fully remote receiver configuration, status checking, firmware updating and data download. It supports multiple independent data transfers through TCP/UDP/Ntrip protocols in RTCM, ComNav binary, NMEA, and BINEX data formats, and also features email alerts and FTP push capability.
Data can be transmitted either via standard Ethernet port or via the built-in 4G modem, providing a communications backup for additional stability.