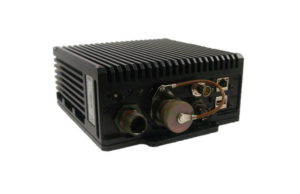 Domo Tactical Communications (DTC) has launched a 2×5 Watt variant of its NETNode IP Mesh Radio family, providing 10 Watts of total RF power and secure, seamless exchange of video, audio and data.
DTC's Mesh radios, ideal for UAVs (unmanned aerial vehicles), unmanned systems and robotics, are flexible MANET (Mobile AdHoc Networking) solutions that provide high-capacity multi-domain IP connectivity and self-forming, self-healing mesh architectures.
The NETNode 5RM 5W delivers DTC's highest ever data capacities at greater than 90 Mbps. With low latency IP communication, it is well-suited for applications such as wide area surveillance and drone swarming networks. The highly flexible IP Mesh technology allows data to be exchanged between wireless nodes in point-to-point or point-to-multipoint configurations, and the mesh readjusts itself as nodes join and leave or move relative to one another.
Designed to excel in extended outdoor deployments, the NETNode 5RM 5W provides a variety of features including built-in dual HD video encoders,
a GPS receiver and both composite and SDI video inputs. RF bandwidth is software configurable between 1.25MHz and 20MHz.
The NETNode 5RM 5W is based on DTC's next-generation Phase 5 IP Mesh radio technology. It is interoperable with DTC's Phase 3 and 4 Mesh products, allowing for simple field upgrade as well as flexibility and easy expansion as new nodes can be integrated into existing infrastructure.