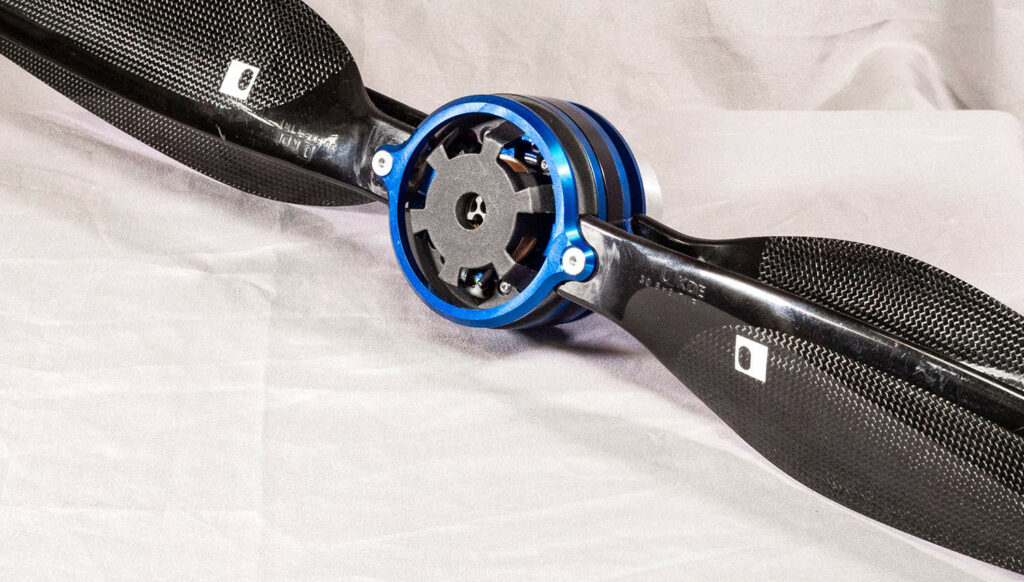 CR Flight has developed a revolutionary new counter-rotating (CR) motor technology designed for both vertical takeoff and landing (VTOL) and horizontal-flight unmanned aerial vehicles (UAVs). The new designs will be available in various thrust sizes (10, 20, 50 and 100 lbs) and are targeted towards high-performance drone applications such as precision agriculture, inspection, search & rescue, mapping & surveying, and cargo delivery.
Many current drone motor designs suffer from various limitations, including restricted flight time due to excessive power draw, limited thrust, and high temperatures that shorten the operational life of the motor. CR Flight's design overcomes these limitations by spinning both the rotor and the stator in opposite directions, harnessing the energy from both the active and reactive force of the motor. CR Flight's various patent pending high-RPM and high-current rotary transformers are used to supply power to electrify the field coils, accomplishing this transfer of current with high efficiencies.
The new Spirit CR motors have been designed in several configurations that locate the power assembly either above, below or within the motors. All configurations have standard plug-and-play motor mounts for ease of attachment to a range of common drone designs. Although dual propeller drones do already exist, these designs utilize a co-axial configuration, where two motors are stacked in line. CR Flight's motors require only a single motor to drive both propellers, and are therefore lighter and more energy efficient.
According to CR Flight, compared to standard equivalent drone motors, Spirit CR motors require approximately 30% less electrical power input at high power demand, produce up to twice as much on-demand thrust, and run up to 50% cooler. These improvements translate into significantly longer flight times, greater payload capacity and increased motor life.
CR Flight plans to distribute their Spirit CR motors by marketing directly to motor and drone manufacturers, as well as by licensing their CR technologies to suitable entities.