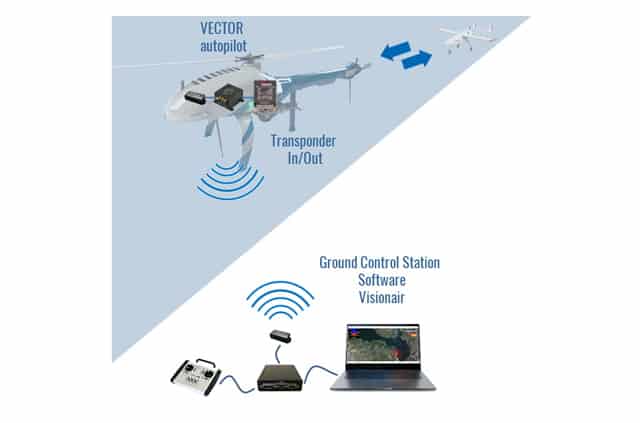 Sagetech Avionics' MX family of UAV (unmanned aerial vehicle) transponders has been integrated by UAV Navigation into their VECTOR drone autopilots, providing a potential solution to the challenge of manned and unmanned platforms coexisting in the same airspace. Unmanned Traffic Management (UTM) is currently one of the major technological hurdles being faced by aerospace companies seeking to increase the use of drones in industry, and one of the first steps is an improvement in the identification of all aircraft flying within an airspace.
Tested with more than 60,000 flight hours, UAV Navigation's autopilots are highly capable in performing long-range operations, under extreme conditions, in GPS-denied environments and when communication with the ground control station has been lost. With the integration of Sagetech Avionics' compact and lightweight MX transponders, UAV Navigation has begun the development of a new sense and avoid system for unmanned aircraft. The MX family's ADS-B In and Out and antenna diversity capabilities allow the VECTOR autopilot to know the position of all surrounding aircraft and to send this information to the UAV ground control station.
Upon reception of this information, the mission control software will release automatic alerts to make the operator aware of the proximity of other aircraft. The operator can then evaluate potential avoidance actions. This process also lays the foundation for the development of automatic avoidance manoeuvres in the future.
The collaboration between Sagetech and UAV Navigation allows direct compatibility between the two companies' products and also paves the way for a better understanding of sense-and-avoid challenges and of the requirements for developing a system that will meet new operational and legislative challenges.