CR Flight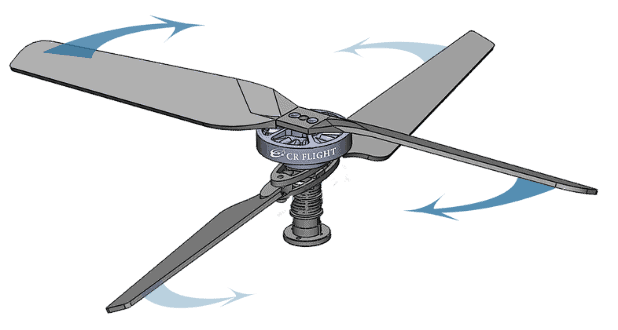 , a leading developer of innovative propulsion solutions for UAVs (unmanned aerial vehicles) and drones, has partnered with Unmanned Systems Technology ("UST") to demonstrate their expertise in this field. The 'Gold' profile highlights how their revolutionary counter-rotating motor technology can provide greater efficiency, thrust and longevity for vertical take-off and landing (VTOL), multirotor and horizontal-flight unmanned aircraft.
CR Flight's unique drone motor technology utilises a patented counter-rotating mechanism with a slip ring that harnesses the energy from both the active and reactive force of a spinning motor. Usually absorbed by a non-moving stator and the body of the drone, the reactive counter-force can now be used to drive a counter-rotating propeller from the same motor. This additional force results in up to 50% more energy efficiency than other motors on the market depending on configuration and size of motor.
The company's Spirit CR electric drone motors will initially be available with thrust ratings for 10, 20, 50, and 100 lbs of lift, with more to be added. CR Flight can also develop custom configurations to suit specialised customer applications. Utilising the same footprint as standard single-propeller motors, Spirit CR motors have been designed as a plug-and-play solution for any UAV design, attaching easily to any common drone airframe.
CR Flight's innovative drone motors are ideal for a range of commercial and industrial drone applications, including precision agriculture, heavy-lift industrial work, search and rescue operations, aerial photography and mapping, and infrastructure and utilities inspections. To find out more about CR Flight and their counter-rotating drone motor technology, please visit their profile page:
https://www.unmannedsystemstechnology.com/company/cr-flight/